At last, Jack Donaghy may get Avery Jessup back from North Korea: TheWrap has confirmed that "Hunger Games" star Elizabeth Banks will return to "30 Rock" in May.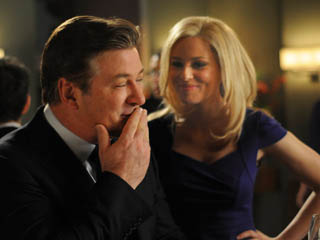 But while Banks' Avery lives, "TGS" — the "Saturday Night Live"-ish sketch comedy show-within-the-show — is in danger of becoming a taped series.
In the April 26 live episode of "30 Rock," Kabletown bosses decide to save some cash and film "TGS." Liz Lemon (Tina Fey) and Donaghy (Alec Baldwin) realize taping the show would make their lives easier, but TV-loving Kenneth (Jack McBrayer) rallies his co-workers to try to save the show's live format.
Also read: Best '30 Rock' Quote Ever: 'Smooth Move, Ferguson!'
The April 26 episode will be the series' second live installment. "30 Rock" aired a live episode on Oct. 14, 2010, and the episode's director, Beth McCarthy-Miller, will return to direct the season six live show.
As the network did with the 2010 live episode, NBC will air two versions of the April 26 episode, one of the East Coast and one for the West Coast.
When last viewers saw Avery, she had been kidnapped to become the bride of North Korea leader Kim Jong-un.
A recurring season six storyline has revolved around Jack's efforts to secure her release and return her home to him and their infant daughter, Liddy, while Jack and Avery's mother (guest star Mary Steenburgen) have fought a mutual attraction.