Bryan Lourd, Ben Affleck, Harvey Weinstein – Ben Wins – Christopher Polk, Getty Images.jpg" style="width: 300px; margin: 15px; float: left; height: 200px;" title="" />Even if you were able to find the CW and watch the Critics Choice Movie Awards on Thursday night, here's what you didn't seen on TV.
(Left: Bryan Lourd, Harvey Weinstein, Jennifer Lawrence, and Bradley Cooper surround the victorious Ben Affleck)
Asking Winners to "Go Long"
Never in the history of award shows has a director asked winners to "expand" their acceptance speeches. A half-hour into the show, at 5:38 p.m., producers announced, "We're running a little bit light." They offered suggestions to fill time, including having more than one winner from an ensemble speak.
Exactly one hour later as the show neared the end, producers reversed course.
Also read: Critics' Choice Awards: 'Argo' Wins Best Picture, Ben Affleck Captures Best Director
The Genius Bar
Leslie Mann, Judd APatow open mouth laughing – Christopher Polk, Getty Images.jpg" style="width: 220px; height: 295px; margin: 15px; float: right;" title="" />
During the "prolong-the-speeches" period, Judd Apatow picked up his Louis XIII Genius Award. "We're expanding," Apatow said as he read the menu off the table. Organizers had smartly rationed the calories to only a single pre-set course of a Thai steak salad and a bread basket.
(The "I made Judd Apatow laugh" face usually precedes a job offer. Apatow with Leslie Mann and a guest.)
After "Pitch Perfect" actress Rebel Wilson presented the award to Apatow (a tasty appetizer for Wilson's hosting gig at the MTV Movie Awards in April), the newly crowned "Genius" celebrated in a converted second-floor suite looming above the afterparty.
Not a pure naming-rights play, the premium cognac consulted with the Broadcast Film Critics Association to select Apatow as the inaugural recipient from a group of candidates.
Judd Apatow Prompter – Christopher Polk Getty Images_0.jpg" style="width: 300px; height: 200px; margin: 15px; float: left;" title="" />A toast (and a nearby bottle worth $15,000 that an insider tells me aficionados keep in a safe, not a bar) included other top shelfers like former Paramount/MGM CEO Frank Mancuso Sr.
During Apatow's acceptance speech, even the teleprompter guy was cracking up.
Anchormen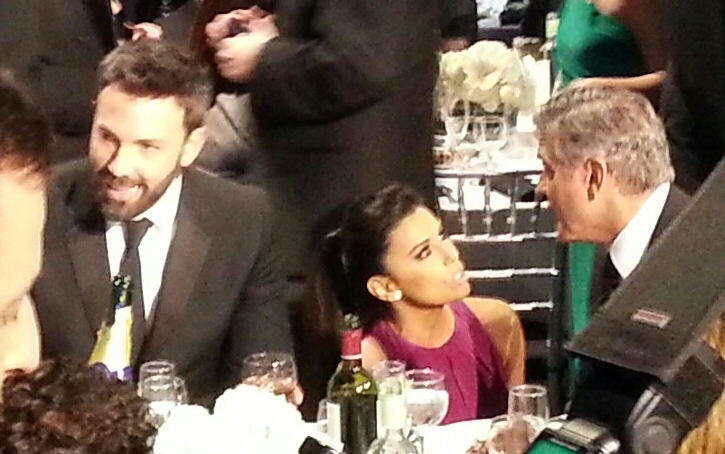 During the commercial breaks, the "Argo" table had all the gravity.
Many stars surrounded Ben Affleck and George Clooney, including young Tom Holland (from "The Impossible") and Eva Longoria, who kneeled down to sneak in between the two leading men.
During one commercial break, Warner Bros. Pictures Group President Jeff Robinov escaped the fray to corral drinks for the table, slipping the bartender a $20 tip.
Christian Bale, Matthew McConaughey – Christopher Polk, Getty Images.jpg" style="width: 300px; height: 200px; margin: 15px; float: left;" title="" />The collateral winners? Matthew McConaughey of "Magic Mike" and Christian Bale of "The Dark Knight Rises." As "Argo's" neighbors, they were much less disturbed.
Presumably, they spent the bonus time glaring at the bread basket and comparing starvation diets.
Brrrrrrr….oadcast Film Critics
John Krasinski Emily Blunt – Christopher Polk – Getty Images for BFCA_0.jpg" style="width: 300px; height: 200px; margin: 15px; float: right;" title="" />It was freezing outside (54 degrees) and no warmer inside.
Many women wore short black blazers right up to the carpet before passing them off to publicists, under the freeze-conducting metal of Barker Hangar. Two women asked staffers to move one of the portable heaters right up to their table. Helen Hunt covered up in a shawl.
(Right: Emily Blunt and John Krasinski)
Robert DeNiro, Hugh Jackman – Larry Busacca – Getty Images.jpg" style="width: 300px; height: 195px; margin: 15px; float: left;" title="" />
(Left: Tom Holland of "The Impossible," Robert DeNiro of "Silver Linings Playbook" and Hugh Jackman of "Les Miserables." Later in the night, DeNiro and a group hit the Sunset Tower.
"Good Will" From "The Town"
When Affleck won Best Director, there was a noticeable exhale in the room, like a collective sigh of relief followed by a standing ovation and the warmest cheers of the night.
The room was clearly on Affleck's and "Argo's" side, not just in terms of the raw votes that delivered the wins. The critics seemed to agree with Bradley Cooper, who pivoted from "The Today Show's" congratulatory questioning earlier in the day to interject, "Ben Affleck was robbed."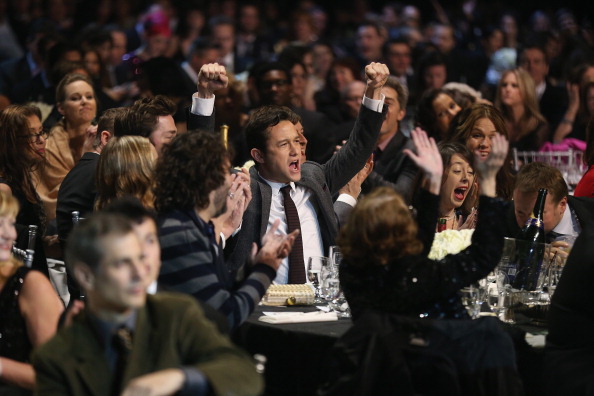 (If Hollywood were more like sports. A refreshingly honest Joseph Gordon-Levitt allows himself to enjoy the thrill of victory for "Looper," awarded Best Sci-Fi/Horror Movie.)
The Delight of David O. Russell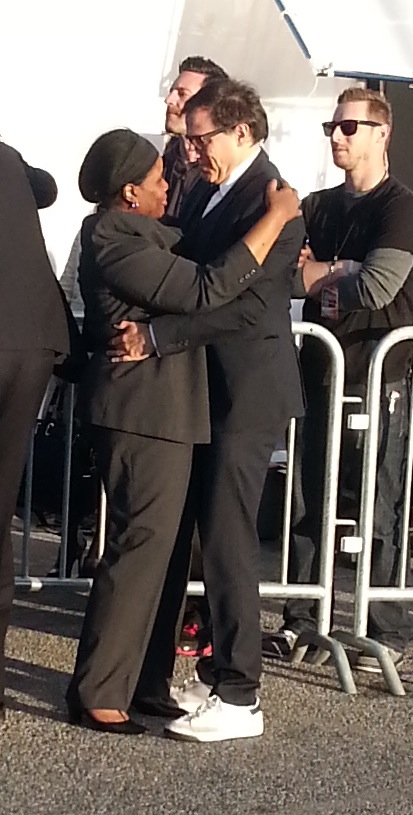 Win or lose, David O. Russell was in a decidedly non-Lilly Tomlin mood.
The newly minted Oscar nominee blew kisses from the backseat of his car as it crawled through the limo arrivals. Upon exiting his car, he immediately embraced a colleague.
Melissa Leo and Amy Adams – Chris Polk Getty Images.jpg" style="width: 160px; height: 215px; margin: 15px; float: right;" title="" />
Remember "The Fighter" Melissa Leo and Amy Adams reunited at the CCMAs.
Kid Dynamite
The image of Quvenzhane Wallis as Hushpuppy, running with sparklers in the dark has become the iconic image from "Beasts of the Southern Wild."
Even 90 minutes after the show ended and most had abandoned the portion of the hangar that hosted the afterparty, the youngest actress nominee of all time was tearing up the dance floor to Taio Cruz's "Dynamite" with a pink/">pink stuffed animal, as her mother looked on. Nearby, Aaron Sorkin had no stuffed animal, nor any dance shoes.
If Wallis continues making televised acceptance speeches from her pink/">pink Iphone, someone should be chasing down an endorsement deal.
Edgar Ramirez and Jessica Chastain – Christopher Polk, Getty Images.jpg" style="width: 300px; height: 200px; margin: 15px; float: right;" title="" />
(Edgar Ramirez and Best Actress winner Jessica Chastain. Yes, Jessica, there are a few more award shows to go… this weekend.)
Photos by Christopher Polk and Larry Busacca for BFCA/Getty Images.