Get TheWrap's complete coverage of the 84th Annual Academy Awards
Sunday, 3:17 p.m.
Simon Curtis Oscar Wait for Car outside Mondrian.jpg" style="margin-top: 15px; margin-right: 15px; margin-bottom: 15px; margin-left: 15px; font-size: 14px; line-height: 21px; float: left; width: 150px; height: 200px; " title="" />
"My Week With Marilyn" Director Simon Curtis (left) waits in front of the Mondrian for his car service to go to the Hollywood and Highland complex.
4:52 p.m.
The Vanity Fair limo ar
rivals line on Sunset Boulevard is taking shape. The ultimate determination of whether guests are "on the list" is whether the RF chips embedded in the invitations register with an array of fixed sensors on poles that surround arriving cars. It's like TSA for your limo.
Also read: Stars Hit the After-Parties (Slideshow)
5:25 p.m.
The crowd at Mercedes-Benz SL's party at SoHo House is frantically trying to finish filling out Oscar ballots before the show starts. The winner gets an Ipad 3. Some players gain an advantage by writing in "Moneyball" to the Adapted Screenplay category, that erroneously had 2011 nominees "Winter's Bone" and "True Grit" listed in the category.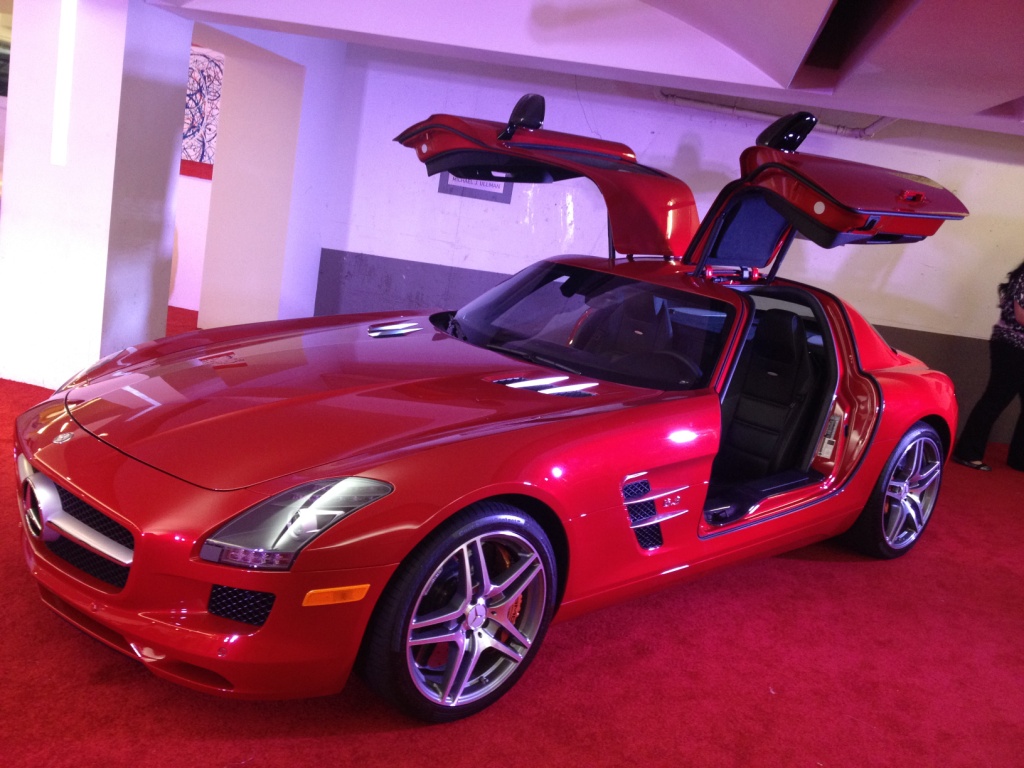 The event benefitted the Film Foundation, an appropriate tie in since the SL has popped up in classic films like "Beverly Hills Cop" and "High Society" alongside Grace Kelly and Frank Sinatra. Because Soho is camera-free, the accompanying image (at left) is of Lamborghini doors on a Benz in the arrivals area.
5:55 p.m.
The crowd at the Weinstein Company viewing party at the Mondrian goes wild when costume designer Mark Bridges wins. This followed the first two awards of the night going to "Hugo." At this event, the viewing was serious. People were paying rapt attention to the multiple screens and sipping Apothic wines before the screens immediately disappeared after the telecast.
Also read: Oscars Party Chatter: Governors Ball, Vanity Fair – Tow Yard
6:45 p.m.
Elton John did not decide who would sit with him at his 20th annual viewing party until Sunday. He chose Katy Perry (who he said he had never met before) and Adam Lambert. The event raised $5.25 million for the fight against AIDS in a hugely expanded new venue. Chopard, Neuro Drinks, and Wells Fargo helped bring in the haul.
7:11 p.m.
At the standing room only Mercedes event, Emmy night fixture Bryan Cranston is wandering the restaurant looking for a seat. He ends up leaving as soon as "The Artist" is announced, while the team is still accepting on stage.
9:55 p.m.
Even Vanessa Hudgens has to get her black light "Elton John Aids Foundation" stamp on her inner right wrist checked – after walking the huge white carpet – before being admitted in to the tent in West Hollywood park. She was too late to bid on a tennis lesson with Rafael Nadal that was auctioned off after the show but hung with Ashley Tisdale and danced to Foster the People.
Also read: Sean Young Arrested on Misdemeanor Battery Charge After Oscars
10:16 p.m.
Moments before Foster the People took the stage, the DJ is playing last year's performer Florence and the Machine. James Valentine from Maroon 5 says of indie L.A. natives Foster, "They're one of the people I've never seen live and one of the main reasons I came."
11:20 p.m.
At the Weinstein bash, L.A. Times gossip columnist Matt Donnelly preps for his 11:30 arrival time at Vanity Fair. He calls his car service – the only permitted arrival method – in lieu of what would be a 250 yard walk down the same side of Sunset Blvd.
11:57 p.m.
In the bustling lobby of the Mondrian, "The Artist" role player Ed Lauter says, "I've been in 76 movies. This is the coup de grace."
12:01 a.m.
The Weinstein crowd has successfully drank the inside bar at Asia de Cuba dry of champagne. As it had all night for many, Dewars kept the festivities going. The party is in full swing as winners Meryl Streep (tucked away in the tiki hut), Jean Dujardin and Harvey Weinstein (with wife Georgina Chapman) are all in the building. Joel McHale is hanging with the winners. Even "The Descendants" actor Matthew Lillard has bailed on the Fox Searchlight party to join in.
12:10 p.m.
Michel Hazanavicius with Oscar in Mondrian Lobby.JPG" style="margin-top: 15px; margin-right: 15px; margin-bottom: 15px; margin-left: 15px; font-size: 14px; line-height: 21px; width: 240px; height: 320px; float: left; " title="" />
Also not at Fox Searchlight: George Clooney. The most intimate concentration of star power anywhere has a somber tone. Clooney, girlfriend Stacy Keibler, Brad Pitt, Angelina Jolie and Jimmy Kimmel are together at Craig's on Beverly. The mood amongst the 50 people inside is low key. At least it's a win for former longtime Dan Tana's GM Craig Susser, in that his favorite celebrity clientele has made the move with him to the new digs.
12:25 a.m.
Back at the Mondrian, Meryl Streep uses only one security guard to exit.
12:44 a.m.
Harvey emerges from the VIP tiki hut and runs in to Kenneth Branagh at the bottom of the stairs. With so many hands thrown his way, he says "Thanks, guy" to a few well wishers.
1:17 a.m.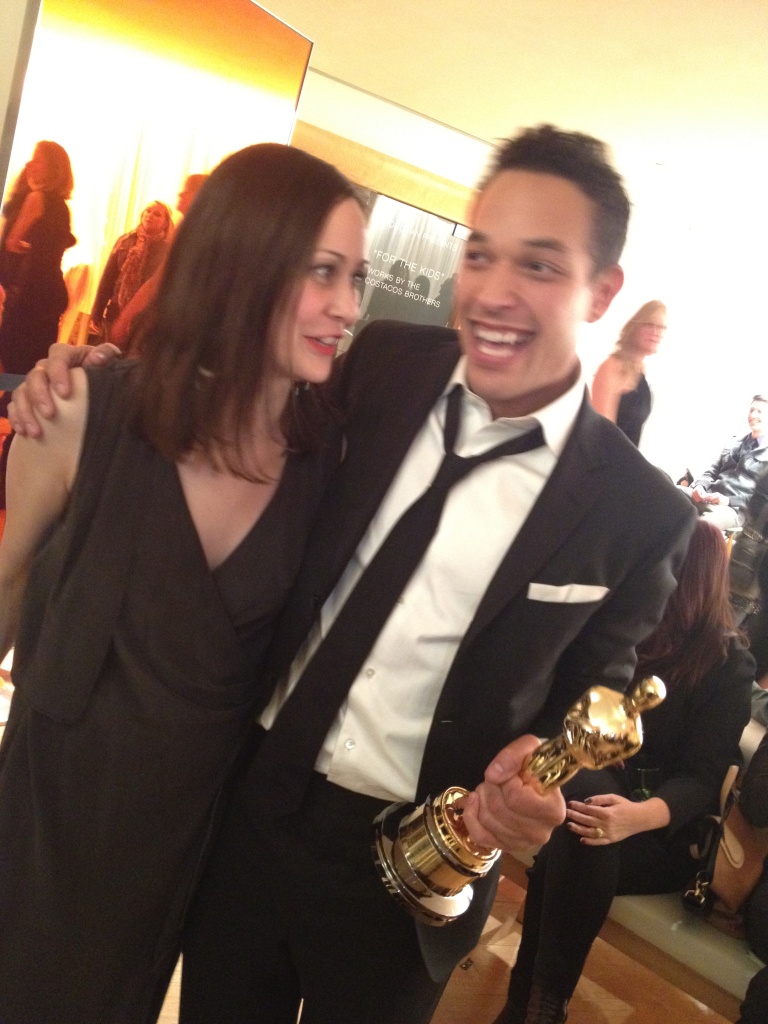 Awards consultant Lisa Taback is wearing the biggest smile of the past six months as she departs the sea of gold in the Mondrian lobby. Behind her, Michel Hazanavicius is mobbed by friends (at left, above) and Weinstein Senior VP Pantea Ghaderi hugs winning "Undefeated" director T.J. Martin (at right).
2 a.m.. (and Beyond)
The parking garage check-ins for shuttles to both Maxim's Late Night and Relativity's parties continue to be bustling, but smooth.
4 a.m. A.M.
The reported call time for E!'s "Fashion Police" talent – Giuliana Rancic, George Kotsiopoulos, Kelly Osbourne and Joan Rivers – arrives to begin their fashion dissection on the night that was. "There's no partying for me," Kotsiopoulos told TheWrap before the weekend.