Who's that "Scooter" that Justin Bieber always thanks when accepting awards on stage?
He's the man who had Usher, MC Hammer and the Biebs himself performing at his 30th birthday extravaganza in Hollywood Saturday night.
Paris Hilton and most of young Hollywood came out to the Music Box for manager Scooter Braun, who cut his teeth handling national promotions for Jermaine Dupri and brokering Pepsi deals for Ludacris while still in college at Emory.
That was before he discovered both Asher Roth and Bieber online.
The paparazzi swarm outside filled in for the red carpet-less bash that had all the makings of another music mogul's festivities — a Diddy party.
However, instead of a pushing a branded vodka, Braun asked guests to donate gifts to Pencils of Promise, an org that he serves as a board member.
***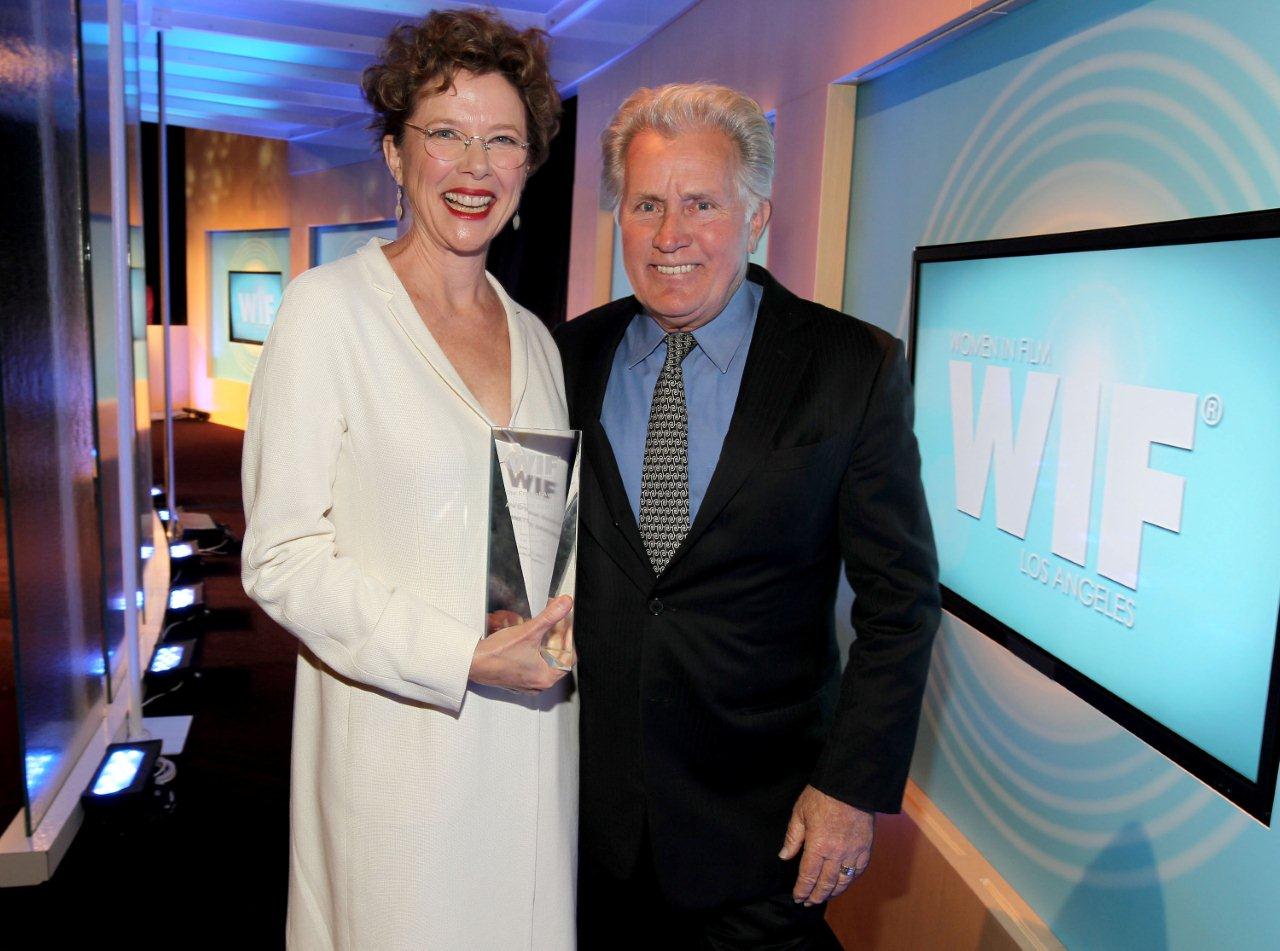 Martin Sheen presented the Crystal Award for excellence in film to his longtime friend Annette Bening at Women In Film's Crystal + Lucy Awards at the Beverly Hilton on Thursday night.
In addition to a major profile in this month's mega Emmy magazine, CBS Entertainment President Nina Tassler picked up the Lucy Award from Geena Davis.
Named in part for Lucille Ball, the awards honor women who have helped expand the role of women in the entertainment industry.
Sponsors Pandora jewels and MaxMara were heavily integrated – dressing nearly all the honorees (including Katie Holmes and "How I Met Your Mother" perma-director Pamela Fryman)
Having a big year as the scene-stealer in "Bridesmaids" and a renewal for "Mike and Molly", Melissa McCarthy (above) served as host.
***
There was no surprise who-dragged-who to the preview of the PlayStation Vita handheld.
Jerry O'Connell said that he enrolled in law school (LA's Southwestern University) two years ago instead of playing video games at home. Now that he's withdrawn, he is fully off-the-wagon.
He frequently even plays against the O'Connell family mailman over the PlayStation network, a relationship that results in "extra early" mail delivery according to wife Rebecca Romijn.
The two hit the Playstation Preview suite recently.
***
As Emmy voters continue penciling in scantrons with No. 2 pencils for nominees in the non-fiction category, Mythbusters' Adam Savage and Jamie Hyneman hit the campaign trail at the Paley Center for Media's Q&A night with the Discovery channel stars.
***
Odette and Dave Annable make sure nobody forgets it's a Joseph Abboud Watch Collection event at Esquire magazine's launch at the Sunset Tower Thursday night.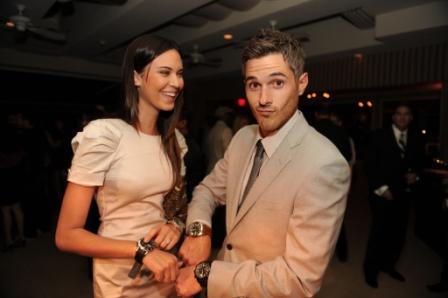 Managers Charlie Walk and Ryan Daly, executive producers Jason Schrift ("Jimmy Kimmel") and Rob Weiss ("Entourage"), chef Todd English and a gang of male execs hosted a gang of male talent including Kevin Jonas, Nelsan Ellis and scenester Paul Sevigny.
***
A Triple New Jersey Surprise (it's not as graphic or illicit as it sounds.)
While Sue Sylvester appears only in taped bits on other stops of the international "Glee Live!" tour, the Emmy hostess appeared by surprise at the East Rutherford show on Wednesday night.
Gwyneth Paltrow also emerged to sing "Forget You," but the surprises weren't done for the cast.
At the prom themed after-party at the Gansevoort Park Lounge (branded as the Samsung AT&T "Spring Fling") birthday boy Kevin McHale got candles from castmates Jenna Ushkowitz and Naya Rivera.
Not only is "Glee" shouldering in on "Idol's" summer tour model, it's doing so with familiar sponsor AT&T.
In a partnership with AT&T and Samsung, they've pulled the cast meet-and-greets out of the arena to retail stores in five cities.
(Here, Cory Monteith is thankful to get a wedding proposal from a fan in one of the retail stores and not in front of an arena crowd.)
The sponsors have been aggressively pushing the multimedia features of its Infuse 4G by injecting it in to multimedia events – last month with a tight-listed Nikki Minaj private show at Milk Studios in here Los Angeles to rope in the non-Gleeks.
***
Spin-dy City" anyone?
Kelsey Grammer plays the mayor of Chicago in the Starz show "Boss," which is currently shooting on location in Chicago.
The "Boss" with the bosses at the NCTA Cable show, also in Chicago: Grammer, Sandra Stern (Lionsgate TV COO), Jon Feltheimer (Lionsgate Co-Chairman and CEO), star Connie Nielson, and Chris Albrecht (Starz CEO).
***
Minnie Driver and Ashlee Tisdale took in a safari of celebrity families at Africa themed Elizabeth Glaser Pediatric Aids Foundation's hot ticket — "A Time for Heroes."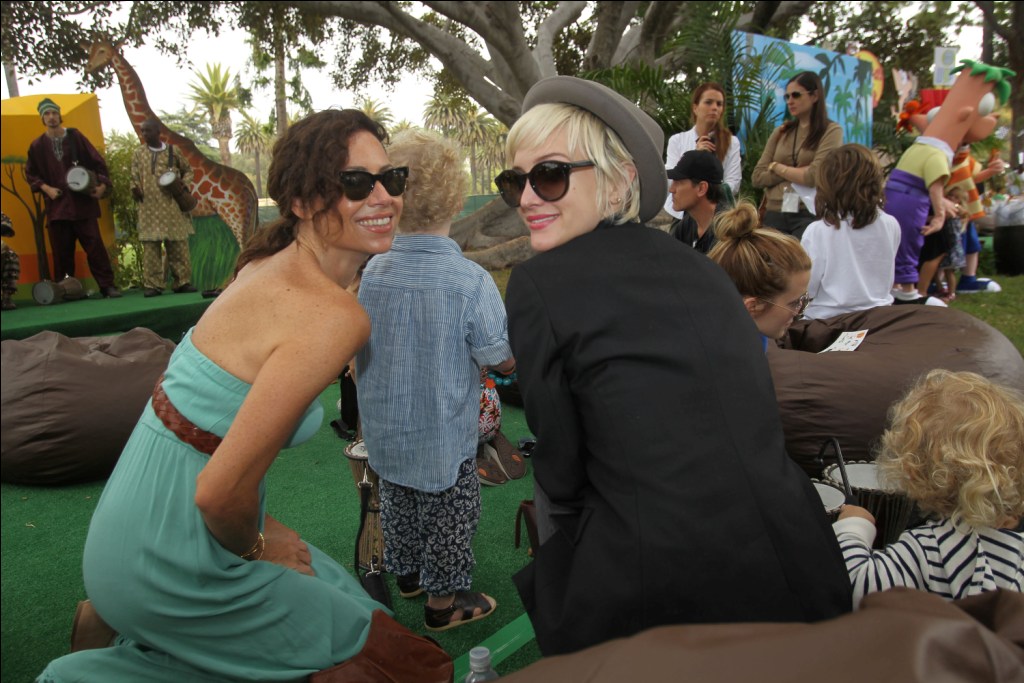 The annual family picnic on the grounds of the Veterans Administration had Olivia Munn, Constance Zimmer, Angus T. Jones and 74 other stars working carnival booths at the Disney sponsored event to raise over $1.5 million.
***
Sara Rue, Nicole Sullivan, and prolific tweeter Ross Matthews  recover after Broadway dancers staged a flash-mob dance to Tina Turner's "Simply the Best" while the three Jenny Craig dieters promoted at a party at Lincoln Plaza last week.
***
Say hello to NATPE's PitchCon (formerly known as LA TV Fest).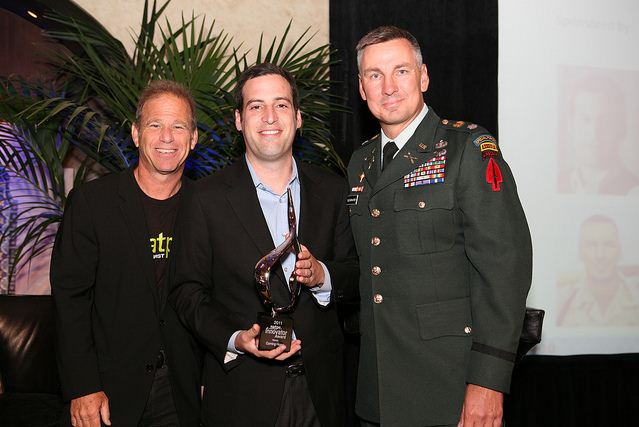 Lifetime's "Coming Home," the reality show documenting active duty military making surprise homecomings garnered honors for the show's executive producer Tom Forman (center).
Forman is flanked by NATPE president/CEO Rick Feldman and Lt. Col. John Clearwater, deputy director of Army Public Affairs at the Roosevelt.