HBO is the leader in the American Society of Cinematographers' television nominations, which were announced by the ASC Wednesday.
The channel received four nominations in the three categories, including a pair for "Boardwalk Empire" in the One-Hour Episodic Television Series/Pilot category.
PBS and ABC each received three nominations, while Showtime had two.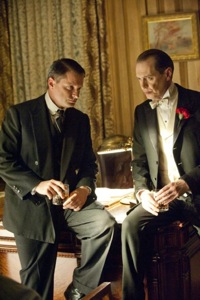 "Boardwalk Empire" was the only television program to receive more than one nomination. Other shows represented included "Downton Abbey," "Pan Am," "Mildred Pierce," "The Kennedys" and "Modern Family."
ASC film nominations will be announced Tuesday, January 10.
The 26th annual ASC Outstanding Achievement Awards will be presented February 12 in the Grand Ballroom at the Hollywood & Highland Center.
The nominees:
ONE-HOUR EPISODIC TELEVISION SERIES/PILOT
David Franco for HBO's "Boardwalk Empire" ("To the Lost")
Jonathan Freeman, ASC for "Boardwalk Empire" ("21")
David Katznelson, DFF, BSC for PBS' "Downton Abbey" (Pilot)
John Lindley, ASC for ABC's "Pan Am" (Pilot)
David Stockton, ASC for NBC's "Chase" ("Narco Part 2")
TELEVISION MOVIE/MINISERIES
Ed Lachman, ASC for HBO's "Mildred Pierce"
Kevin Moss for Showtime's "Chicago Overcoat"
David Moxness, CSC for ReelzChannel's "The Kennedys" ("Moral Issues and Inner Turmoil")
Martin Ruhe for PBS' "Page Eight"
Wojciech Szepel for PBS' "Any Human Heart" ("Episode 2")
HALF-HOUR EPISODIC SERIES OR PILOT
James Bagdonas, ASC for ABC's "Modern Family" ("Bixby's Back")
Michael Balfry, CSC for The Hub's "R.L. Stine's The Haunting Hour" ("Brush with Madness")
Vanja Cernjul, HFC for HBO's "Bored to Death" ("Forget the Herring")
Levie Isaacks, ASC for ABC's "Man Up" ("Acceptance")
Michael Weaver, ASC for Showtime's "Californication" ("Suicide Solution")