Wendi McLendon-Covey at McDonalds.JPG" style="width: 240px; height: 360px; margin: 15px; float: left;" title="" />On the day that the Academy announced the "Bridesmaids" will present at the Oscars, Wendi McLendon-Covey shed some light on the booking process.
"It came through the studio," she told TheWRAP at McDonald's premiere party for the new Chicken McBites on Thursday night.
While the announcement from the Academy was the first, Covey said she's known since before Christmas. "Brian Grazer thought it would be fun. We're not stupid; we're going to do it."
Last year the comedic actress watched at home. "I was sitting two inches from my television with my Chex Mix…that's kind of my process," she joked. (Photo by Startraks.)
The Golden Arches had their own golden booking in the form of a talent pun: Pioneering rap duo "Salt-N-Pepa" performed a 45-minute set of their own hits and their contemporaries — Naughty By Nature, Rob Base and DJ Eazy Rock — tied to the launch of the new chicken snack.
The increased targeting of Hollywood tastemakers by McDonald's this year is glaring. Thursday night's party followed a "McCafe" backstage at the Critics Choice Movie Awards two weeks ago, and a four-day pop-up lounge inside the Village at the Lift during Sundance. In Park City, they had roaming servers offering hot chocolate, coffee, and warm snacks throughout the VIP village.
"It ebbs and it flows," communications manager Molly McKenna told TheWRAP. "It definitely picks up when we have new menu items," she said.
It's unclear if the stretch limousine waiting in front of Siren Studios– as in Notorious B.I.G.'s legendary line "Salt-n-Pepa up in the limousine" – was for them or Tom Cruise's son Connor Cruise, who performed as DJ C-Squared.
Ahead of the Curve: Before "The Grey" racked up a strong opening weekend
Liam Neeson and Dermot Mulroney – The Grey – John Sciulli Wireimage.jpg" style="width: 240px; height: 168px; margin: 15px; float: right;" title="" />performance, the Palm downtown elevated director Joe Carnahan and star Liam Neeson to their wall of fame. Each earned a caricature on the wall, side by side, sketched in between downtown legends Kobe Bryant and Blake Griffin.
At right, Neeson with wintry co-star Frank Grillo at the Palm. (Photo by John Sciulli/Wireimage.)
Across the way, the Jackson children, Paris, Prince, and Blanket returned to Staples Center for the opening night of Cirque Du Soleil's "Michael Jackson, The Immortal" world tour. Of note, Staples was the scene of their father's public funeral in July 2009, highlighted by daughter Paris' surprisingly vocal and public words for her late father.
From opposite ends of the music credibility spectrum, Rihanna (4 nominations) and Rebecca Black (451,054 dislikes on YouTube) also caught the first show. Rihanna and Coldplay will perform together at the Grammys in two weeks, also at Staples.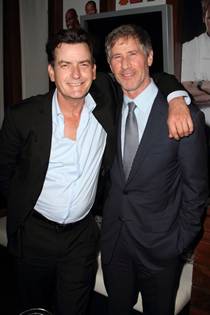 A few days shy of the one year anniversary of CBS shutting down "Two and a Half Men," triggering Charlie Sheen's media meltdown, the future "Anger Management" star hit the Debmar-Mercury/Lionsgate NATPE Party in Miami with Lionsgate CEO Jon Feltheimer.
Finally, Best Actress contenders were on the campaign trail this weekend in different arenas. Viola Davis accepted an award at the Santa Barbara Film Festival Friday night as Meryl Streep simultaneously joined Nicole Kidman and Russell Crowe at the Australian Academy's Awards at Soho House.