EXCLUSIVE
Bruce Dow, the chief executive officer of the Screen Actors Guild — Producers Pension & Health Plans (SAG-PPHP) will take a leave of absence from the organization, TheWrap has learned.
Dow (left) has been dogged by allegations from an ousted employee that he covered up an embezzlement scheme at the benefits administrator and used the funds for personal expenses.
Also read: CEO of SAG Pension Plan Accused of Embezzlement Cover-Up (Exclusive)
Less than two weeks ago, the board of trustees for SAG-PPHP released a statement to members announcing that a review of the charges by an outside counsel found that the bulk of the allegations against Dow were false. However, the investigation found that a former employee misappropriated some $2 million of funds.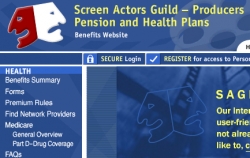 Dow will step down from his duties immediately and will be replaced by Chief Operating Officer Christopher Dowdell in the interim, a spokeswoman for SAG-PPHP told TheWrap.
Dowdell will take on day-to-day management responsibilities.
In a statement to TheWrap, SAG-PPHP's board of trustees wrote, "Bruce Dow has requested and been granted a leave of absence from his duties as Chief Executive Officer of the Screen Actors Guild – Producers Pension & Health Plans for personal reasons effective immediately."
The charges first bubbled up in Dept. of Labor complaint submitted last September by ousted plan executive Craig E. Simmons.
Simmons claims stirred over 770 people to sign an online petition pushing SAG-PPHP to launch an independent investigation.