The movie that was booed at its first screening might win the Palme d'Or.
Or the black-and-white silent comedy.
Or even the film whose director was banned from the festival after saying he was a Nazi.
It's always hard to predict what film will win the Cannes Film Festival's top prize, and this year may be particularly tricky. There's little consensus about a standout – and the movies that seem positioned to take the prize all have reasons why they might not do so.
And looming over all attempts to handicap the race is the usually Cannes unknown: the jury.
Will jury president Robert De Niro push hard for his own favorites, the way past president Roman Polanski was said to have done? Or will he sit back and simply be one of nine voices?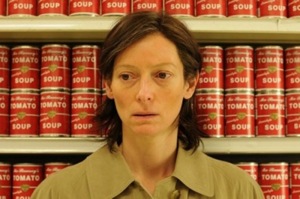 Will the three actors on the jury – Jude Law, Uma Thurman and Martina Gusman – skew the vote toward a film dominated by a central performance, say, Tilda Swinton's in "We Need to Talk About Kevin" (left)? Or will the two jurors who are reportedly the most informed cineastes, director Olivier Assayas and journalist Linn Ullman, dominate the discussion?
We don't know. And with one day of competition screenings yet to come, we also don't know if there's an eleventh-hour candidate waiting to sneak in and grab the top prize on the last day of screenings.
The final two competition films to screen are "The Source" by Radu Mihaileanu, and "Once Upon a Time in Anatolia" by Nuri Bilge Ceylan; both are respected directors, particularly Ceylan, a past Cannes winner and juror. But it's rare to have a final-day film figure in the awards.
And when it comes to the 20 films screening in the main competition, nothing seems to have inspired viewers since Wednesday's screening of "Melancholia" (which ran into a bit of trouble afterwards, as you may have heard).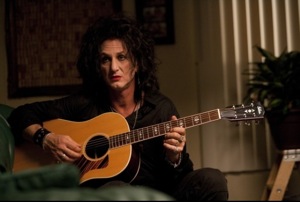 Pedro Almodovar's "The Skin I Live In" and Nicolas Winding Refn's "Drive" have vocal partisans, but to many they're seen as genre exercises – the former a creepy thriller, the latter an action film heavy on car chases.
And Friday's debut, "This Must Be the Place," may have Sean Penn (right) in a showy role as a glam rock star exploring his past, but it was mocked as often as it was celebrated after its screening. One tweet described it as "Sean Penn in an SNL skit playing Robert Smith hunting down a Nazi. This film should be persona non grata."
"Far too much of a godawful mess to merit serious moral scrutiny," added Eric Kohn.
So what are the top competitors for the Palme d'Or? We can start with the highest-rated films on indieWIRE's criticWIRE poll: the Dardenne brothers' "The Kid with a Bike," Terrence Malick's "The Tree of Life," Aki Kaurismaki's "Le Havre" and Lars von Trier's "Melancholia."
It's hard to imagine that jurors would dare select the last of those films after the press conference comments that got von Trier banned from the festival; the move would be a supreme declaration of independence, but this doesn't seem like the kind of jury drawn to that kind of statement.
I'd guess that von Trier's antics killed his film's chances, except in one area: jurors just might look kindly on star Kirsten Dunst for putting up with the guy, just as a different Cannes jury did two years ago when they named Charlotte Gainsbourg best actress for von Trier's "Antichrist."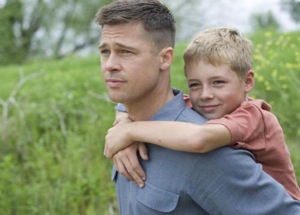 "The Tree of Life" (left) did receive those scattered boos at its initial press screening, but the jurors weren't in attendance there – and its undeniable scale and ambition, coupled with the reverence in which Malick is held, make it a major contender.
Jean-Pierre and Luc Dardenne's "The Kid With a Bike" is in some ways a direct contrast to "Tree of Life" – in typical Dardennes fashion, it's low-key and understated, a coming-of-age story that relies on small details rather than Malick's history-of-time extravagance.
The Dardennes have won the Palme twice before and could become the first three-time winners; that might work against them, but the jury could just as easily ignore it.
"Le Havre" might be the most unexpected of the major contenders, but also the most uplifting. Sasha Stone called it "one of the true delights" of the festival – and in a year of dark, dark films, it could win points as one of the few films that, as Stone said, "renews your faith … in the goodness of human beings."
But if it's uplift the jury is looking for, they could also turn to "The Artist," Michel Hazanavicius' silent black-and-white comedy set in the early days of Hollywood. Some critics have complained that the movie is too slight, but most agree that it's gloriously entertaining – and the added ambition of filming it in black-and-white without sound could well win Hazanavicius some extra points.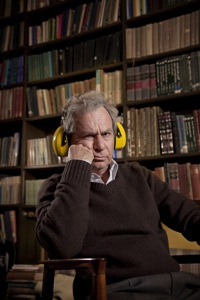 It's a longshot, perhaps, but not out of the question – and it wouldn't surprise me to see it win the Grand Prix or the Priz du Jury, which are in effect second and third-place awards. Also keep an eye out for Jean Dujardin in the Best Actor competition.
I'd throw one more film into the roster of possible Palme d'Or winners: "Footnote" (right), director Joseph Cedar's comic drama of a rivalry between a father and son who are both Talmud professors at a Jerusalem university.
Acquired by Sony Classics at the festival, it's another film that might be considered slight when up against other contenders – but if it finds a couple of partisans on the jury, it has a shot.
So does "We Need to Talk About Kevin," which won raves for Tilda Swinton's performance and a significant amount of enthusiasm for the film itself.
One possible complication for "Kevin": Typically, the jury spreads the awards around – which means, for instance, that if Swinton wins the Best Actress award (or the Prix d'interpretation feminine) for her performance, that may lessen the films chances of winning.
If I had to make a prediction, I'd make a wild guess that the jury will choose to honor Terrence Malick's grand ambition. But in the end, all of this is just guessing.
The awards will come down to nine people in a room, all of whom have seen 20 films in the previous 10 days and all of whom have their own likes, dislikes and prejudices.
It's in the hands of four actors, three directors, one producer and one journalist; two are from the United States, one from England, one from Argentina, one from Chinese, one from Norway, one from France, one from Chad and one from Hong Kong.
They'll reach their conclusions in time for the awards ceremony on Sunday evening.
The Palme d'Or, by the way, is seldom a path to success in the U.S. market, although several winners (including "The Pianist," "Secrets and Lies," "Pulp Fiction" and "The Piano") have gone on to Oscar nominations for Best Picture.
Of recent winners, the top grosser was Michael Moore's documentary "Fahrenheit 9/11," which was a rare unanimous selection in 2004 and went on to make $120 million at the U.S. boxoffice and another $100 million worldwide.
Since then, the Palme d'Or winners have been Luc and Jean-Pierre' Dardenne's "L'enfant," Loach's "The Wind That Shakes the Barley," Cristian Mungiu's "4 Months, 3 Weeks and 2 Days," Laurent Cantet's "The Class" and Michael Haneke's "The White Ribbon." The last two received Oscar nominations in the Best Foreign-Language Film category.