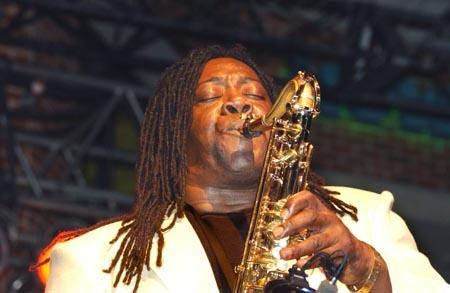 E Street is going to be a lot less fun.
Legendary saxophonist Clarence Clemons died Saturday night, six days after suffering a stroke at his Florida home.
He was 69.
Clemons – an iconic member of Bruce Springsteen's band for the past 40 years, had suffered a massive stroke on June 12, followed by two brain surgeries.
Said Springsteen in a statement: "Clarence lived a wonderful life. He carried within him a love of people that made them love him … He was my great friend, my partner, and with Clarence at my side, my band and I were able to tell a story far deeper than those simply contained in our music. His life, his memory, and his love will live on in that story and in our band."
Read also: Clarence Clemons Improving After Stroke; Lady Gaga Tweets Her Love
Aside from his work with Springsteen, Clemons released several solo albums and in 1985 had a hit single with "You're a Friend of Mine", a duet with Jackson Browne. He also played with such artists as Ringo Starr and Aretha Franklin.
Most recently, he played on two tracks of Lady Gaga's new album "Born This Way." He also appears in her video for "Edge of Glory" and played live with Gaga on the season finale of "American Idol."
Here's a video of one of his last performances, on America Idol with Gaga, story continues below:
As an actor, he was featured in several films, including "New York, New York" and "Bill & Ted's Excellent Adventure."
In 2009, he published his autobiography, "Big Man: Real Life & Tall Tales."
Clemons was born Jan. 11, 1942, in Norfolk, Va., the son of a fish merchant. He received his first sax as a Christmas present, and moved to New Jersey after college. He met struggling musician Springsteen in a bar in Asbury Park.
He wrote in his autobiography: "It was raining and thundering like a motherfucker. When I opened the door it blew off the hinges and flew down the street … Somebody introduced me to Bruce, everybody knew everybody, and he asked me if I wanted to sit in."
When Springsteen recorded his 1972 debut album, "Greetings From Asbury Park," Clemons was brought in for the sessions. The cover of Springsteen's third, and breakthrough, "Born to Run'' album features Springsteen resting an arm on The Big Man's shoulder – the only band member featured on the cover.