Tatiana Maslany scores upset for "Orphan Black" role
On a night of several ties at the 3rd Annual Critics' Choice Television Awards, HBO's "Game of Thrones" and AMC's "Breaking Bad" were both named Best Drama Series and CBS's "Big Bang Theory" won for Best Comedy Series.
CBS's "Big Bang Theory" led the night with three awards: Kaley Cuoco tied for Best Supporting Actress in a Comedy with Eden Sher of ABC's "The Middle," and Simon Helberg won for Best Supporting Actor in a Comedy.
Also read: Critics' Choice TV Awards: The Complete List of Winners
The night's other tie came in the Best Reality Series category, where A&E's "Duck Dynasty" tied Sundance's "Push Girls."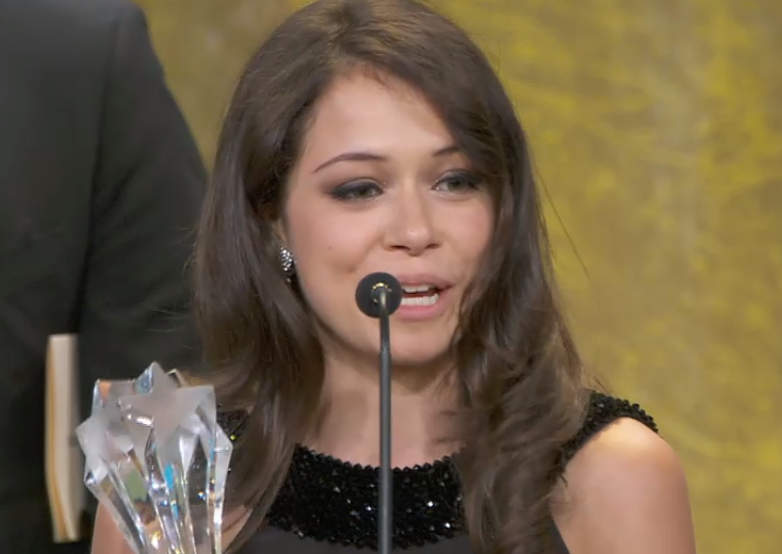 Perhaps the biggest surprise of the night was Tatiana Maslany (left), who won Best Actress in a Drama Series for BBC's "Orphan Black." She beat actresses including last year's winner, Claire Danes. Bryan Cranston had his second consecutive win for Best Actor in a Drama Series for "Breaking Bad."
Louis C.K. won for Best Actor in a Comedy Series for FX's "Louie," and Julia Louis-Dreyfus won for Best Actress in a Comedy Series for HBO's "Veep."
Elisabeth Moss was named Best Actress in a Movie or Miniseries for Sundance's "Top of The Lake," and Michael Douglas">Michael Douglas won Best Actor in a Movie or Miniseries for "Behind the Candelabra." Presenters Josh Gad and Aubrey Plaza jokingly mispronounced his name, pretending that the category's nominees — who also included Matt Damon">Matt Damon and Al Pacino — were all relative unknowns.
Here's the full list of nominees and winners, with winners in bold:
BEST COMEDY SERIES
The Big Bang Theory – CBS
Louie – FX
The Middle – ABC
New Girl – FOX
Parks and Recreation – NBC
Veep – HBO
BEST ACTOR IN A COMEDY SERIES
Don Cheadle (House of Lies) – Showtime
Louis C.K. (Louie) – FX
Jake Johnson (New Girl) – FOX
Jim Parsons (The Big Bang Theory) – CBS
Adam Scott (Parks and Recreation) – NBC
Jeremy Sisto (Suburgatory) – ABC
BEST ACTRESS IN A COMEDY SERIES
Laura Dern (Enlightened) – HBO
Zooey Deschanel (New Girl) – FOX
Lena Dunham (Girls) – HBO
Sutton Foster (Bunheads) – ABC Family
Julia Louis-Dreyfus (Veep) – HBO
Amy Poehler (Parks and Recreation) – NBC
BEST SUPPORTING ACTOR IN A COMEDY SERIES
Max Greenfield (New Girl) – FOX
Simon Helberg (The Big Bang Theory) – CBS
Alex Karpovsky (Girls) – HBO
Adam Pally (Happy Endings) – ABC
Chris Pratt (Parks and Recreation) – NBC
Danny Pudi (Community) – NBC
BEST SUPPORTING ACTRESS IN A COMEDY (tie)
Carly Chaikin (Suburgatory) – ABC
Kaley Cuoco (The Big Bang Theory) – CBS
Sarah Hyland (Modern Family) – ABC
Melissa Rauch (The Big Bang Theory) – CBS
Eden Sher (The Middle) – ABC
Casey Wilson (Happy Endings) – ABC
BEST GUEST PERFORMER IN A COMEDY SERIES
Melissa Leo (Louie) – FX
David Lynch (Louie) – FX
Bob Newhart (The Big Bang Theory) – CBS
Patton Oswalt (Parks and Recreation) – NBC
Molly Shannon (Enlightened) – HBO
Patrick Wilson (Girls) – HBO
BEST DRAMA SERIES (tie)
The Americans – FX
Breaking Bad – AMC
Downton Abbey – PBS
Game of Thrones – HBO
The Good Wife – CBS
Homeland – Showtime
BEST ACTOR IN A DRAMA SERIES
Bryan Cranston (Breaking Bad) – AMC
Damian Lewis (Homeland) – Showtime
Andrew Lincoln (The Walking Dead) – AMC
Timothy Olyphant (Justified) – FX
Matthew Rhys (The Americans) – FX
Kevin Spacey (House of Cards) – Netflix
BEST ACTRESS IN A DRAMA SERIES
Claire Danes (Homeland) – Showtime
Vera Farmiga (Bates Motel) – A&E
Julianna Margulies (The Good Wife) – CBS
Tatiana Maslany (Orphan Black) – BBC America
Elisabeth Moss (Mad Men) – AMC
Keri Russell (The Americans) – FX
BEST SUPPORTING ACTOR IN A DRAMA SERIES
Jonathan Banks (Breaking Bad) – AMC
Nikolaj Coster-Waldau (Game of Thrones) – HBO
Michael Cudlitz (Southland) – TNT
Noah Emmerich (The Americans) – FX
Walton Goggins (Justified) – FX
Corey Stoll (House of Cards) – Netflix
BEST SUPPORTING ACTRESS IN A DRAMA SERIES
Jennifer Carpenter (Dexter) – Showtime
Emilia Clarke (Game of Thrones) – HBO
Anna Gunn (Breaking Bad) – AMC
Regina King (Southland) – TNT
Monica Potter (Parenthood) – NBC
Abigail Spencer (Rectify) – Sundance
BEST GUEST PERFORMER IN A DRAMA SERIES
Jim Beaver (Justified) – FX
Jane Fonda (The Newsroom) – HBO
Martha Plimpton (The Good Wife) – CBS
Carrie Preston (The Good Wife) – CBS
Diana Rigg (Game of Thrones) – HBO
Jimmy Smits (Sons of Anarchy) – FX
BEST MOVIE OR MINISERIES
American Horror Story: Asylum – FX
Behind the Candelabra – HBO
The Crimson Petal and the White – Encore
The Hour – BBC America
Political Animals – USA
Top of the Lake – Sundance
BEST ACTOR IN A MOVIE OR MINISERIES
Benedict Cumberbatch (Parade's End) – HBO
Matt Damon (Behind the Candelabra) – HBO
Michael Douglas (Behind the Candelabra) – HBO
Toby Jones (The Girl) – HBO
Al Pacino (Phil Spector) – HBO
Dominic West (The Hour) – BBC America
BEST ACTRESS IN A MOVIE OR MINISERIES
Angela Bassett (Betty & Coretta) – Lifetim
Romola Garai (The Hour) – BBC America
Rebecca Hall (Parade's End) – HBO
Jessica Lange (American Horror Story: Asylum) – FX
Elisabeth Moss (Top of the Lake) – Sundance
Sigourney Weaver (Political Animals) – USA
BEST SUPPORTING ACTOR IN A MOVIE OR MINISERIES
James Cromwell (American Horror Story: Asylum) – FX
Peter Mullan (Top of the Lake) – Sundance
Zachary Quinto (American Horror Story: Asylum) – FX
Sebastian Stan (Political Animals) – USA
David Wenham (Top of the Lake) – Sundance
Thomas M. Wright (Top of the Lake) – Sundance
BEST SUPPORTING ACTRESS IN A MOVIE OR MINISERIES
Ellen Burstyn (Political Animals) – USA
Sienna Miller (The Girl) – HBO
Sarah Paulson (American Horror Story: Asylum) – FX
Lily Rabe (American Horror Story: Asylum) – FX
Imelda Staunton (The Girl) – HBO
Alfre Woodard (Steel Magnolias) – Lifetime
BEST REALITY SERIES (tie)
Duck Dynasty – A&E
The Moment – USA
Pawn Stars – History Channel
Push Girls – Sundance
Small Town Security – AMC
Wild Things with Dominic Monaghan – BBC America
BEST REALITY SERIES – COMPETITION
Chopped – Food Network
Face Off – Syfy
Shark Tank – ABC
So You Think You Can Dance – FOX
Survivor – CBS
The Voice – NBC
BEST REALITY HOST
Tom Bergeron (Dancing With the Stars) – ABC
Cat Deeley (So You Think You Can Dance) – FOX
Gordon Ramsay (Hell's Kitchen/Masterchef) – FOX
RuPaul (RuPaul's Drag Race) – Logo
Ryan Seacrest (American Idol) – FOX
Kurt Warner (The Moment) – USA
BEST TALK SHOW
Conan – TBS
The Daily Show With Jon Stewart – Comedy Central
The Ellen DeGeneres Show – Warner Brothers Television Distribution
Jimmy Kimmel Live! – ABC
Late Night with Jimmy Fallon – NBC
Marie – Hallmark Channel
BEST ANIMATED SERIES
Adventure Time – Cartoon Network
Archer – FX
Phineas and Ferb – Disney Channel
Regular Show – Cartoon Network
The Simpsons – FOX
Star Wars: The Clone Wars – Cartoon Network
CRITICS' CHOICE TELEVISION ICON AWARD
Recipient: Bob Newhart