Rafael Yglesias wins fiction for 'A Happy Marriage'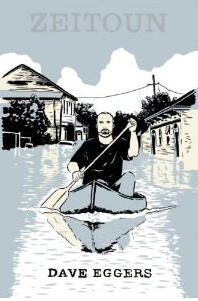 "Zeitoun," novelist Dave Eggers' tale of heroism and racism in post-Katrina New Orleans, took two prizes at the Los Angeles Times' Book Prizes on Friday night. Eggers won in the current interest category, and took a second prize for innovation, for his "refreshing disregard for conventional wisdom; a forward thinker who is not afraid of print, but also not afraid to look ahead to the future, and who is drawing a new generation of writers and readers to the written word."
Other winners included historian Kevin Starr for his latest opus on California in the 1950s, and Linda Gordon, for her biography of Dorothea Lange. Rafael Yglesias won in the fiction category for "A Happy Marriage."
The full list and news release is below.
LOS ANGELES, April 23, 2010 – The Los Angeles Times kicked off its weekend-long celebration of literature, authors, reading and community with its 30th Annual Book Prizes at The Times' Chandler Auditorium. Held on the eve of the Festival of Books – the country's largest public literary festival – Times' Book Editor David L. Ulin presided over the ceremony which honored extraordinary authors in 12 categories, including the first-of-its-kind appreciation of the Graphic Novel genre. Evan S. Connell received the Robert Kirsch Award for lifetime achievement and Dave Eggers was presented the new Innovator's Award for bringing storytelling into the future through cutting-edge business models, technology and applications of narrative art. Eggers also became the first writer to ever take home two prizes in one night, winning in the Current Interest category for Zeitoun.
Connell's distinguished body of work was cited as that of "a compassionate contrarian and a gloriously insidious philosopher of our true heritage. His novels, short stories, essays and poems range across centuries and continents, focusing sometimes on the great events of history and other times on the secret moments of a private life, and often both at once."
Eggers, bestowed the inaugural Innovator's Award, was noted for his "refreshing disregard for conventional wisdom; a forward thinker who is not afraid of print, but also not afraid to look ahead to the future, and who is drawing a new generation of writers and readers to the written word."
The Los Angeles Times Book Prizes were established in 1980. Finalists and winners are determined by panels of published authors who specialize in each genre. Category winners receive a $500 cash award and Kirsch and Innovator's Award winners both receive $1000.
2009 Book Prizes Winners:
· Biography: Linda Gordon, Dorothea Lange: A Life Beyond Limits (W.W. Norton & Co.)
· Current Interest: Dave Eggers, Zeitoun (McSweeney's Books)
· Fiction: Rafael Yglesias, A Happy Marriage (Scribner)
· Art Seidenbaum Award for First Fiction: Philipp Meyer, American Rust (Spiegel & Grau)
· Graphic Novel: David Mazzucchelli, Asterios Polyp (Pantheon)
· History: Kevin Starr, Golden Dreams: California in an Age of Abundance 1950 – 1963 (Oxford University Press)
· Mystery/Thriller: Stuart Neville, The Ghosts of Belfast (SOHO Press)
· Poetry: Brenda Hillman, Practical Water (Wesleyan University Press)
· Science and Technology: Graham Farmelo, The Strangest Man: The Hidden Life of Paul Dirac, Mystic of the Atom (Basic Books/Perseus Book Group)
· Young Adult Literature: Elizabeth Partridge, Marching for Freedom: Walk Together Children and Don't You Grow Weary (Viking Children's Books/Penguin Group)
· Robert Kirsch Award: Evan S. Connell
· Innovator's Award: Dave Eggers