Yep, it's late May, and they're still comin': Hailee Steinfeld, Elle Fanning, Armie Hammer, and Garrett Hedlund are tapped at Jay Penske's new awards gala
Francis Ford Coppola brought Elle Fanning to tears, making an unannounced appearance at the Young Hollywood Awards to present the star of his forthcoming "Twixt Now and Sunrise" with the Actress of the Year Award on Friday night.
The awards show has a history for tapping feature talent early on in their careers for non-contested honors.
Elle Fanning and Hailee Steinfeld.jpg" />This year's leading foursome — Hailee Steinfeld, Armie Hammer, Garrett Hedlund, and Fanning — join the ranks of previous years' winners like Scarlett Johannson, Jake Gyllenhaal, Kristen Stewart, Shia LeBouf, and big sister Dakota Fanning.
The younger Fanning has kept her filming in the family, previously starring with Steven Dorff in Sofia Coppola's "Somewhere" last year.
Fanning looked genuinely surprised as she took the stage for the first award of the night.
Speaking through tears, she said "I really … really want to thank Francis Ford Coppola for coming," before the young actress pulled it together to remember to say "good night everyone!" at the end of her speech. (Producers shot this typically show-concluding segment at the very top of the presentation, presumably to allow Coppola to make an early getaway.)
The awards make their broadcast debut on Ion, airing next Thursday, May 26.
Aaron Sorkin presented to "two of the best actors I've gotten to work with," "The Social Network's" Winklevoss twins, Armie Hammer.
Sorkin read a note from "The Social Network" director David Fincher, saying, "Jesus Christ, they're still giving out awards?!" Hammer just returned from shooting Clint Eastwood's "J. Edgar" opposite Leonardo DiCaprio, and landed "The Lone Ranger" alongside Johnny Depp this week.  (Disclosure: I know and sometimes socialize with Hammer and his wife Elizabeth Chambers, who was also on scene.)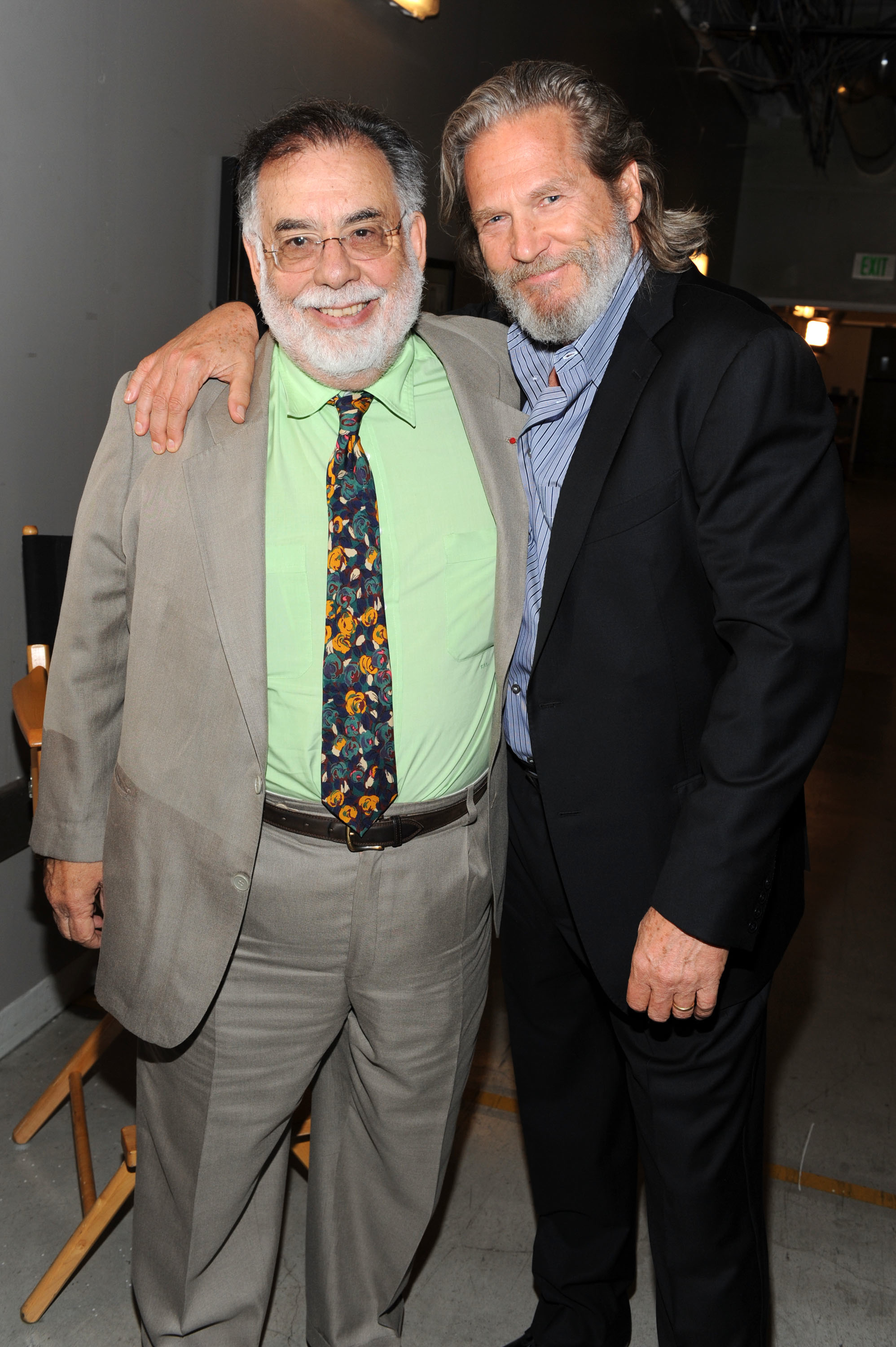 Later in the night, Jeff Bridges bounded onstage to present the increasingly taller Hailee Steinfeld with her "Breakthrough of the Year" award, making light of his age relationship to "young" Hollywood by saying, "I just became a grandfather."
Garrett Hedlund and Hammer struck up a fast friendship, visiting each other's tables and calling out to each other to shuttle "Modern Family" teen Ariel Winter from one to the other, while Winter was eager to meet both.
Despite the big name presenters on stage, like Michael Sheen (for Hedlund), it was a very tough room inside Club Nokia at the L.A. Live complex.
Predictably, all of the scripted comedy bombed in the professionally segregated room.   (Honorees and their professional teams filled the seated tables on the floor, while the balcony was packed with imported general public winning prizes throughout the show from HP and Jet Blue.)
Rocker Pete Wentz and his new band "The Black Cards" weren't sure which audience to play to, half-heartedly walking through two songs at the end of the show.
Also predictably, Aziz Ansari came through with the laughs, presenting his friend Dan Levy with "Comedian of the Year".
Host Giuliana Rancic reprised her role on E! by ushering top talent through awards shows.
In a meta moment, a separate ENG crew followed Rancic throughout the theater, backstage, and as she took breaks with her own team at a table on the floor, banking footage for her Style network follow-along series "Giuliana and Bill".
In rare awards fashion, all of the talent hit the after party upstairs.
Like the awards show, it was sponsored by Cosmopolitan, Bing, and HP. (The entertainment-friendly search engine had a busy week after sponsoring part of the "Hangover Part II" premiere party the night before.)
Jay Penske's PMC (formerly "MMC") owns the awards show, along with Deadline.com, Movieline, and Hollywoodlife.com amongst others. The stature seemed to help Hollywood Life chief Bonnie Fuller, who upgraded herself from the back of the room to a front table moments before the show began.
Others taking home awards included Isabel Lucas, Aimee Teegarden, Jesse Williams, and Camilla Belle.