World War II and the years immediately afterward were apparently the golden age of British infidelity, or at least for movies and books about them. In classics like "Brief Encounter" and "The End of the Affair," repressed Brits met furtively to grasp fleeting moments of passion, usually in grim little rented rooms that probably smelled like cabbage.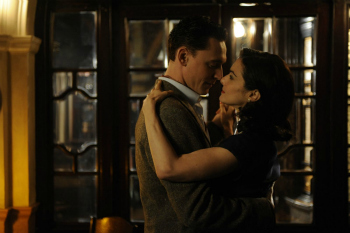 Add "The Deep Blue Sea" to that list, as it sweeps us up into the amour fou of Hester Collyer (Rachel Weisz), who walks away from her comfortable but stifling marriage to Sir William (Simon Russell Beale), a judge many years her elder, and into the arms of the dashing but vapid Freddie (Tom Hiddleston), a former RAF pilot still clinging to his glory days of flying missions against the Nazis.
As this film and so many others have reminded us, post-war Britain was a grim place, with rationed food and a gray pall hanging over everything from outfits to dinner options. So it's easy to see why Hester would look for a little spice in her life, even with a man who can't begin to return her overwhelming affections. When she attempts suicide after Freddie forgets her birthday — in the film's opening scene; it's not a spoiler to mention it — it's clear that Hester's life is in for another major shake-up.
Peeking into the trembling hearts hidden by British stiff upper lips is the specialty of playwright Terence Rattigan ("The Browning Version," "Separate Tables"), and his aesthetic meshes perfectly with that of director Terence Davies, who can paint melancholy and misery in as many shades as the Eskimos allegedly have words that mean "snow."
Whether he's showing Weisz conveying grief through some very meaningful cigarette smoking or finding the wistful undercurrents being masked by loud, boisterous pub singing, Davies is absolutely in his element here, creating a work that's of a piece with his "Distant Voices, Still Lives" and "The Long Day Closes" while being true to Rattigan's original vision as well.
Weisz brings more to the table than knowing her way around a Lucky Strike, mind you; whether she's enduring Freddie's callousness or holding her ground in a subtext-laden conversation with William's passive-aggressive mother (Barbara Jefford), Hester emerges as a real person, powerful and vulnerable, capable of loving others and able to destroy those who adore her.
Hiddleston has been somewhat ubiquitous of late — his 2011 screen appearances run the gamut from "Thor" to "War Horse" to "Midnight in Paris" — but he makes Freddie enough of a charmer and a rotter that you won't find yourself thinking about Loki or F. Scott Fitzgerald when he's on screen.
"The Deep Blue Sea" is often languorous and occasionally tragic, but it builds to a resolution that's powerful without being melodramatic. And for people keeping score, it delivers some of the year's best acting to date.