Lionsgate sold close to 4 million copies over the weekend
Lionsgate has another home entertainment monster on its hands: "The Twilight Saga: Breaking Dawn – Part 2" debuted on DVD and Blu-Ray over the weekend, and has already sold 3.85 million units, besting the opening weekend of "Breaking Dawn – Part 1."
Lionsgate scored two of the four best-performing home entertainment titles last year thanks to "Breaking Dawn – Part 1" and "The Hunger Games." Though "The Hunger Games: Catching Fire," opens this year, it will not be available on DVD or Blu-Ray until 2014, so Lionsgate might have to settle for one blockbuster this year.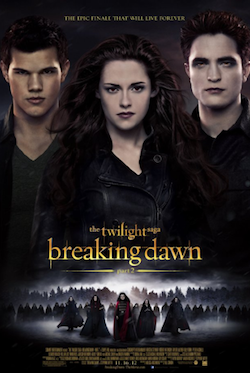 Blu-ray sales accounted for 27 percent of first weekend sales for "Breaking Dawn – Part 2," an increase from 22 percent on the first half of the franchise's two-part conclusion. Electronic sell-through purchases also increased 20 percent from the previous film.
"We're particularly pleased that 'The Twilight Saga – Breaking Dawn Part 2' opened even stronger than 'Breaking Dawn – Part 1,' which launched on Valentine's Day weekend last year," Ron Schwartz, Lionsgate's general manager of home entertainment said in a statement. "Consumer demand for 'The Twilight Saga: Breaking Dawn – Part 2' reflects strength in all segments of the home entertainment marketplace – packaged media, digital and on demand."
The finale of the billion-dollar film series grossed $829 million at the worldwide box office, the best in franchise history and $117 million more than "Breaking Dawn – Part 1."
Lionsgate brought the films under its auspices with its 2012 purchase of Summit Entertainment.