In this morning's roundup of Oscar news 'n' notes from around the web, Nicole Kidman is feted in Santa Barbara, and "Toy Story" stays on top with the critics.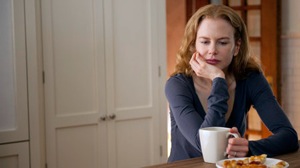 The Santa Barbara International Film Festival has added another Oscar contender to its lineup of tributes: Nicole Kidman will receive the fest's Cinema Vanguard Award at a ceremony on February 5. The award is designed to honor an actor "taking artistic risks and making a significant and unique contribution to film"; it puts Kidman in the company of past winners Stanley Tucci, Christoph Waltz, Ryan Gosling and Vera Farmiga. While Kidman's performance in John Cameron Mitchell's "Rabbit Hole" certainly makes her a possible Best Actress nominee, a likely competitor is on the Santa Barbara tribute slate as well – so which is better, Kidman's Cinema Vanguard Award or Annette Bening's American Riviera Award? (Santa Barbara International Film Festival)
The Golden Tomatoes Awards shouldn't be confused with the Golden Raspberry Awards, which "honor" the worst of the worst; instead, the Tomatoes use a formula developed by the Rotten Tomatoes website to pick the best-reviewed movie of the year. Tim Appelo runs down the contenders with Rotten Tomatoes editor Matt Atchity, who says only a few remaining films have a shot at topping "Toy Story 3" (which is currently 99 percent positive) and "The Social Network" (97 percent). Atchity says "True Grit," "Tangled" and "Tron: Legacy" might have a chance at the top spot, though he seems skeptical. It's not exactly a major entry on the awards-season calendar, but the Golden Tomatoes ceremony will take place on January 11. (The Race)
Jeff Wells tackles the question of whether "Toy Story 3" could actually win Best Picture, and comes up with a succinct answer: "It's not going to happen so forget it." He also thinks that Disney chairman Rich Ross is denigrating the Best Animated Feature award by treating it like a second-class Oscar. So he has a blunt message for Ross: "As on-target as the characters are and as spiritually complete as the film is, 'Toy Story 3' is a first-class, triple-A f—ing cartoon. Deal with it, live in that territory, embrace that thing and shut up." Rich Ross, as you might expect, has yet to respond. (Hollywood Elsewhere)
If Jacki Weaver doesn't get an Oscar nomination for her performance as a monstrous mom in "Animal Kingdom," you can blame Cate Blanchett. Weaver tells Lane Brown that she can't really come to Los Angeles to campaign until January, because she's in a play in Australia that runs into December – and because the play's star is Blanchett, "it's been sold out for months." And without an understudy, Weaver is stuck Down Under. One would hope that the screeners – which have been in voters' hands for a very long time now – would be enough, but that's not always how it works (Vulture).
If you've got a couple of hours to kill (and I'm afraid I rarely do), Friday and the weekend bring lots of Oscar chatting via podcasts and such. The original, in a way, is Kris Tapley and Anne Thompson's Oscar Talk, a podcast that this week ranges from the Governors Awards (she liked it, he didn't go) to "Inception" (she thinks Chris Nolan will get a Best Director nomination, he's not so sure), with lots of other stuff in between. (In Contention and Thompson on Hollywood) Then there are the new kids on the block, Sasha Stone and Jeff Wells – not new to talking about the Oscars, but to doing weekly Oscar podcasting (and, in the case of Wells, a bit of Oscar podcast trash-talking as well). Their Oscar Poker always brings in special guests, who this week include Marshall Fine and Phil Contrino. Their chat lasts almost an hour, and starts with the death of Ronni Chasen, then moves into Wells' feeling that "The King's Speech" feels a bit old-fashioned (Fine begs to differ), and Fine's description of how the New York Film Critics Circle votes. (Hollywood Elsewhere and Awards Daily)
Scott Feinberg talks to Halle Berry about her last-minute entry into the awards race with "Frankie and Alice," in which she plays a real-life woman who battled a multiple-personality disorder. But the conversation covers a lot of ground that doesn't relate to the new movie: how she got launched her acting career, "the Oscar curse" that followed her win for "Monster's Ball," onscreen nudity and the scarcity of non-whites in the Oscar acting categories. (ScottFeinberg.com)