"Kid With a Bike," directed by Belgian brothers Jean-Pierre and Luc Dardenne, gave Sundance Selects a solid opening this weekend, taking $51,000 at three locations in New York and Los Angeles.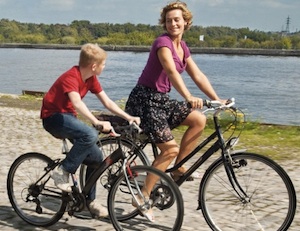 The PG-13 film, nominated for a 2012 Golden Globe for best foreign language film, had a per-location average of $17,000 — the best of the weekend.
A new film by another pair of brothers, Mark and Jay Duplass' "Jeff, Who Lives at Home," didn't fare nearly as well in its debut. The R-rated comedy distributed by Paramount Vantage took in only $840,000 at 254 locations, according to Rentrak. That's an unimpressive $3,307 per-location average.
Yet two other director-brothers, Brandon and Jason Trost, managed to have an even worse opening weekend.
Their R-rated comedy "The FP" took only $13,206 at 27 locations — a per-location average of $489.
Also read: 'Kid With a Bike' Review: Cannes Hit a Heartfelt, Powerful Fairy Tale
The biggest specialty title of the weekend is Pantelion's "Casa de mi Padre," which opened at No. 9 in the nation. The R-rated Spanish language spoof starring Will Ferrell grossed $2.2 million at 382 locations — a per-location average of $5,759.
"Kid With a Bike" tells the story of Cyril, an 11-year-old boy who finds himself living in a state-run group home after being abandoned by his father. Samantha, the town hairdresser, decides to be kind to the child, and helps him recover his bicycle and track down his father — only to find that the man wants nothing to do with the boy.
Sundance Selects is expanding the film next weekend.
Three specialty films of note are now in their second week of release.
Sony Pictures Classics' "Footnote," the Oscar-nominated Hebrew language film, increased to six screens from two, and grossed $72,108.
"Friends With Kids," from Roadside Attractions, expanded from 369 screens to 640 screens and saw good results: The movie grossed an estimated $1.5 million.
The comedy starring Jon Hamm, Kristin Wiig, Maya Rudolph and Chris O'Dowd, Adam Scott, Megan Fox, Ed Burns and writer-director Jennifer Westfeldt herself, has now totaled $4,230,332, making it the highest-grossing specialty film released in 2012.
Finally, CBS Films' "Salmon Fishing in the Yemen" grossed an estimated $455,000 on 62 screens for a per screen average of $7,339. It has now taken $763,400.