"The Bible" edges out "Walking Dead" in the show's common hour, but AMC's zombies take an overall win
History's miniseries "The Bible" ended with a bang on Easter Sunday — but it was no match for the zombies of AMC's "The Walking Dead," which also aired its season finale Sunday.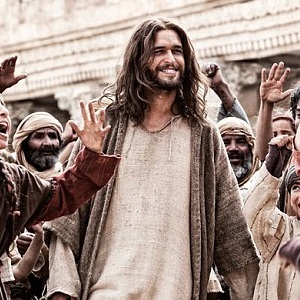 The "Bible" finale drew 11.7 million total viewers — an impressive number, but it still couldn't catch "The Walking Dead," which amassed 12.4 million total viewers.
Also read: 'The Bible' Ratings Down a Bit After Obama-Devil Dustup
The good news for "The Bible," which was executive produced by "Survivor" boss Mark Burnett and his wife, "Touched by an Angel" star Roma Downey, still drew pretty impressive numbers. Sunday night's finale viewership was off slightly from its March 3 premiere, which drew a jaw-dropping 13.1 million total viewers. However, it was up 14 percent in total viewers from last week's episode.
Sunday's "The Bible" finale also drew 3.8 million viewers in the advertiser-cherished 18-49 demographic — a 12 percent boost over last week.And in head-to-head competition with "The Walking Dead" during their common 9 to 10 p.m. hour, "The Bible" actually edged out "The Walking Dead," averaging 12.33 million total viewers, compared to the 12.29 milion that AMC's "The Walking Dead" averaged in the time period.