Justin Bieber is once again poised to make a dream come true and provide some much-needed healing to a wounded world.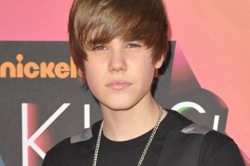 The 17-year-old "Never Say Never" heartthrob has pledged to meet with 14-year-old Payton Wall, whose father was killed on the Sept. 11, 2001 terrorist attacks, after President Barack Obama's ability to bring the pair together was brought into question by the media.
The story began last week, when Wall met with Obama during his visit to New York's Ground Zero following the killing of 9/11 mastermind Osama bin Laden. Told by Wall that her biggest wish it to meet Bieber, Obama — who hosted the singer at last year's White House Easter egg roll — told Wall that he thought he could make the summit happen.
However, as so often happens with regard to Obama's abilities these days, the media was quick to discount his match-making prowess. Specifically, New York magazine scoffed, "Doesn't [Obama] know the PR machine around Justin Bieber is more impenetrable than Donald Trump's ego? The GOP's going to have a field day with this one."
Apparently, however, the naysaysers underestimated the bond that Obama and Bieber had forged — and Bieber's relentless commitment to making the world a happier place. Because on Thursday, the singer fired up his Twitter account to send a digital ray of light Wall's way.
"I think you're wrong," Bieber tweeted in response to New York's pessimism, "pretty sure President @BarackObama will keep this promise. #payitforward"
Justin Bieber: Bringing light to darkness, hope to despair, and meticulously maintained bangs to the world at large. Never mind Donald Trump — isn't it about time that we amended the Constitution to allow Bieber to run?