Katy Perry is about to join the likes of Justin Bieber with her own 3D epic documentary, "Katy Perry: Part of Me."
Paramount's Insurge Pictures on Tuesday said that it has partnered with Perry, Direct Management, Imagine Entertainment, AEG and co-financing partner EMI on the feature, which will be released on July 5.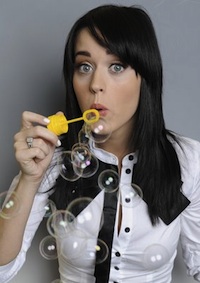 "I am so excited to paint the silver screen in 3D color with help from our friends at Paramount and Imagine," Perry said in a statement. "For the last year and a half, I have intimately documented my life both on and off the stage of the California Dreams Tour. I want to take you behind the cotton candy clouds and reveal the highs and lows and nuts of bolts (sic) of this extraordinary ride. I promise you, after seeing this film, you will truly know me."
After reading that quote, you may truly know her.
Also read: 'Harry Potter,' Katy Perry Lead People's Choice Awards Winners
Adam Goodman, president of Paramount Film Group, was as bubbly:
"Katy's one-of-a-kind story, and our unique ability at Insurge to create equally unique moviegoing experiences, was a natural fit," he said in a statement. "We're beyond excited to offer her fans, who inspired this movie, and moviegoers everywhere, this once-in-a-lifetime look into her world and capture a moment in time."
No doubt, Perry is a big star. Her single "Part Of Me" debuted at No. 1 on Billboard's Hot 100 on Feb. 22. It is the first single in a year, and the 20th in 53 years, to debut in first place.
The "I Kissed a Girl," "Last Friday Night" and "The One That Got Away" singer has sold more than 50 million digital tracks and 10 million albums worldwide.
The documentary is directed by Jane Lipsitz and Dan Cutforth, of Magical Elves, and is produced by Perry, Martin Kirkup, Bradford Cobb and Steven Jensen of Direct Management, and Academy Award winner Brian Grazer of Imagine Entertainment.