"Desperate Housewives" star Kyle MacLachlan pitched in as the star spokesman Tuesday for arts groups seeking aid from Congress.
Testimony, to a panel of the House Appropriations Committee, was aimed at supporting the National Endowment for the Arts' $180 million budget request. Other speakers included Charles Segars, CEO of Ovation TV; Philadelphia Mayor Michael Nutter; Robert Lynch, president-CEO of Americans for the Arts; and actor Jeff Daniels.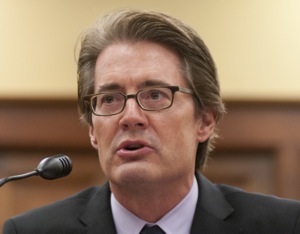 "I am living, walking proof of the tangible difference these kinds of programs can make," MacLachlan told the panel.
He said federal-grant-supported theater programs like those in his hometown of Yakima, Washington, provided a background for him to take up acting full time.
"When I look back, by doing 'Oklahoma' and 'My Fair Lady' (at programs during high school and college), it gave me the confidence that I would draw on later when I seriously began to consider acting as a career," he said.
MacLachlan also said that spending on arts programs creates significant economic impact.
"As we all struggle with the current economic downturn and face the challenge of getting people back to work, it is especially important to me to understand the challenge of those in the creative community who are facing the same demands on their families," he said.
Daniels testified about the 20-year impact of opening the Purple Rose Theater in his Chelsea, Michigan, hometown — named after the film he did with Woody Allen, "The Purple Rose of Cairo."
"Because of the arts, my sleepy little hometown is now a destination," he testified. "In the 20-year history of the Purple Rose Theatre, over half a million people have come to our little town, bought a ticket, and watched one of our plays … Careers have begun in our building. Lives have been changed. Dreams have come true"
While he expected to draw talented theater people, he said, what he didn't see coming was the economic impact. "When I opened our doors in 1991, if there were 25 businesses in town, half were empty or just getting by. Soon, a town with two stoplights was suddenly getting 40,000 new people a year walking down Main Street and everyone of them had a wallet or a purse.
"Very quickly, restaurants replaced empty storefronts. Next came coffee shops, art galleries, markets, jewelry shops. Seemingly overnight, two hotels sprang up at our exit out by the highway. Old Victorian homes turned into Bed & Breakfasts whose bookings catered to people with tickets to the Purple Rose. Owners of established businesses told me how they now stayed open at night because of all the foot traffic."
While testimony to the panel was specifically aimed at the NEA request, other events Tuesday supported other school-related arts programs.
At one, House Speaker Nancy Pelosi, D-Calif., was honored for her backing of arts programs with the Public Leadership in the Arts award.
"Across the country, we have seen the positive impact of the arts on our students and families; yet, in this time of economic hardship, we know that the arts community has taken a hit – forced to shed jobs and lose critical donations from the private sector," Pelosi said in prepared remarks.
She noted that Congress has responded by providing more money for arts in the economic recovery program.