L.A. public radio station's panel-discussion show just tilted to the right, with noted GOP political consultant taking over on an interim basis the spot vacated by Arianna Huffington, LA Observed reports
Yep, public radio, that leftward bastion of left-leaning liberal leftyness!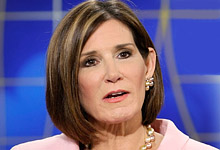 "Left, Right & Center," KCRW's politically-themed panel-discussion show, just got weighted quite a bit more to the conservative side, with the addition of noted GOP political consultant Mary Matalin, LA Observed reports.
Matalin, who is famously married to Democratic political strategist James Carville, will take over — on an interim basis — the spot left vacant by the departure of the left-leaning Arianna Huffington.
The weekly show currently features the ideologically leftward Robert Scheer, centrist point man Matt Miller, alongside far-right Washington Timeds columnist Tony Blankley.
Huffington — who recently sold her Huffington Post blog to AOL and is in the process of executing that big media merger — has said she'll return to "Left, Right & Center" when her schedule eases up, LA Observed reports.
Matalin also hosts the syndicated radio show "Both Sides Now" alongside Huffington.