Mary Stellar, a hold-out resident of the Motion Picture & Television Fund's Long-Term Care facility, died from natural causes on Wednesday. She was 92.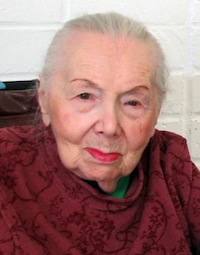 A longtime Hollywood secretary — and the voice in a famous Mr. Magoo sequence — Stellar was the mother of MPTF activist Richard Stellar, a regular blogger for TheWrap whose mission is to protect the residents of the beleagured MPTF home, which has been under the threat of closure for almost two years.
Present at her death were Richard and friend Daniel Quinn, both activists for Saving the Lives of Our Own, as well as Mary's daughter-in-law Nuala, and Motion Picture Home Rabbi Art Rosenberg.
Born on Dec. 9, 1917, Stellar began her career as a secretary for Stephen Bosustow of United Productions of America, the creators of '50s cartoon character Mr. Magoo. Hearing her scream at her children over the phone, Bosustow recorded her –and her scream can still be heard in the opening sequence where Magoo is hoisted onto the roller-coaster.
After that, Stellar was secretary to the King Bros. who produced "Maya," starring Clint Walker and Jay North. She then entered the secretarial pool at MGM Studios where she became secretary to Walter Shenson ("A Hard Days Night"), Sam Peckinpah and finally spent the last 15 years of her
career as secretary and executive assistant to Albert "Cubby" Broccoli, producer of the James Bond films.
Stellar also acted in stage plays and was a member of Women of the Motion Picture Industry.
"My mom had the good fortune to spend her final years in her home, and not at another facility that the fund would have wanted her transferred to," Richard Stellar said in a statement. "She left peacefully, surrounded by those who loved and knew her, in the bosom of the entertainment community. That's why we fight to keep the promise of long-term care alive for all residents on the campus, and for the entire motion picture and television industry."
Services have no yet been scheduled.