Online sellers of DVDs, music, software targeted as part of Cyber Monday crackdown by Feds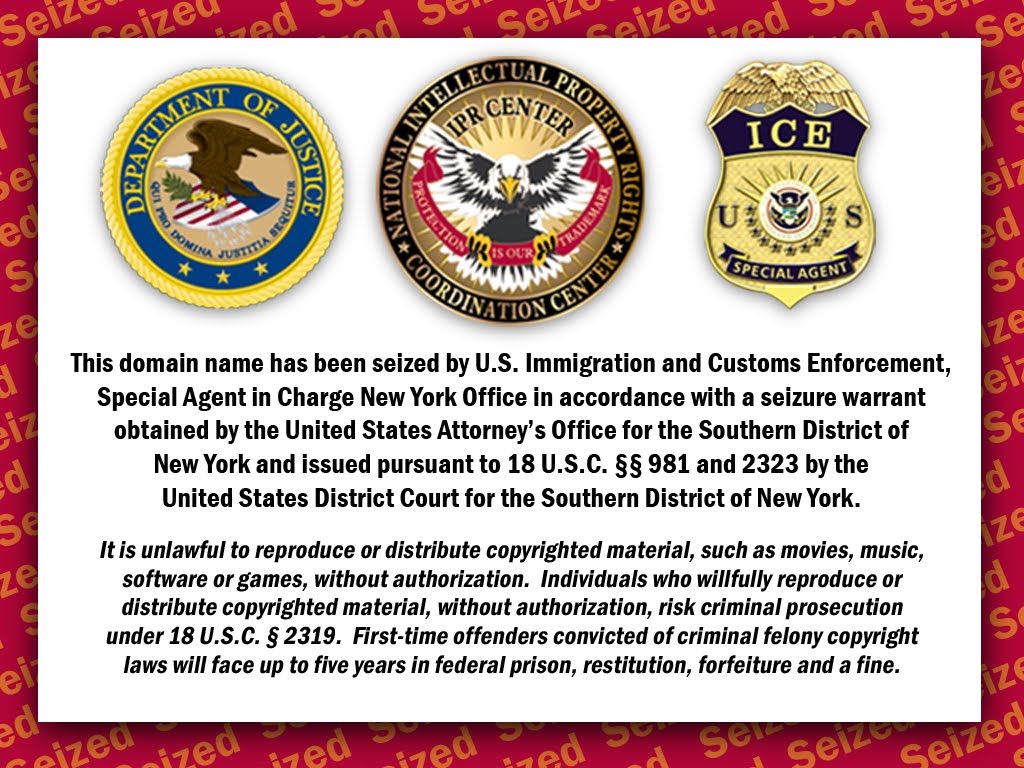 (Updated, 1:47 p.m.) The federal government is making good on its pledge to crack down on Internet piracy.
In escalating war against the online sale of counterfeit goods, feds shut down 82 websites, the Justice Department and the Department of Homeland Security announced on Monday.
The move come as part of Operation in Our Sites II, and is linked to the popular holiday retail sales event — Cyber Monday.
"For far too long, the theft of innovative ideas or sale of counterfeit, defective, and dangerous goods has been perceived as 'business as usual.' Not anymore," Attorney General Eric Holder said in his remarks announcing the closures. "Make no mistake: Intellectual property crimes are not victimless, and they are not risk-free."
Read also: Feds Seize Domain Names of Pirate Sites
The operation targeted online retailers of illegal copies of copyrighted DVD boxed sets, music and software.
The sites also sold counterfeit goods, including sports equipment, shoes, handbags, athletic apparel and sunglasses.
Anyone attempting to access one of these websites will no longer be able to make a purchase. Instead, online shoppers will find a banner notifying them that the website's domain name has been seized by federal authorities.
In a departure from earlier crackdowns, the Justice Department did not release a full list of sites that had been shuttered. However, the Los Angeles office of the U.S. Immigration and Customs Enforcement said Monday afternoon that the disabled domain names include torrent-finder.com; RapGodFathers.com; RMX4U.COM; dajaz1.com; and onsmash.com. In addition to seizing the domain names of the websites, in the case of RapGodFathers.com, authorities also seized the website's server and all of its digital content.
Of late, the Obama administration has worked closely with the entertainment industry to try to stem the tide of Internet piracy. In a show of how closely aligned the two have been, government officials kicked off Operation in Our Sites at a June announcement at the Disney Studios in Burbank, surrounded by senior representatives from major movie studios, entertainment unions and the Motion Picture Association of America.
Critics have argued that the seizures ignore the legal process, but business advocacy groups hailed the government's actions on Monday.
"These latest actions to combat online counterfeiting and digital theft are a significant step forward to crack down on the criminal networks that operate these rogue sites," Steve Tepp, Senior Director for Internet Counterfeiting and Piracy for the U.S. Chamber of Commerce's Global Intellectual Property Center, said in a statement. "Online IP theft is theft nonetheless and must be addressed in order to protect American consumers and safeguards America's economic growth and jobs creation."
But the groups and government officials also said that more actions need to be taken. In particular, the Chamber and public officials said that the Senate needed to needed to move quickly to pass the Combating Online Infringement and Counterfeits Act. That legislation received unanimous support from the Senate Judiciary. It calls for the creation of a blacklist of websites that the US Government can seize or the Internet providers can block.
"We can no longer sit on the sidelines while American intellectual property is stolen and sold online using our own infrastructure," Senator Patrick Leahy (Vt-D), the chairman of the Senate Judiciary Committee, said in a statement. "This costs American jobs, hurts our economy, and puts consumers at risk."
News of the crackdown was originally reported Thursday on the website TorrentFreak, but law enforcement waited until one of the busiest online shopping days of the year to officially announce the moves.