Times executive editor Bill Keller: "Now feels like a moment for celebration"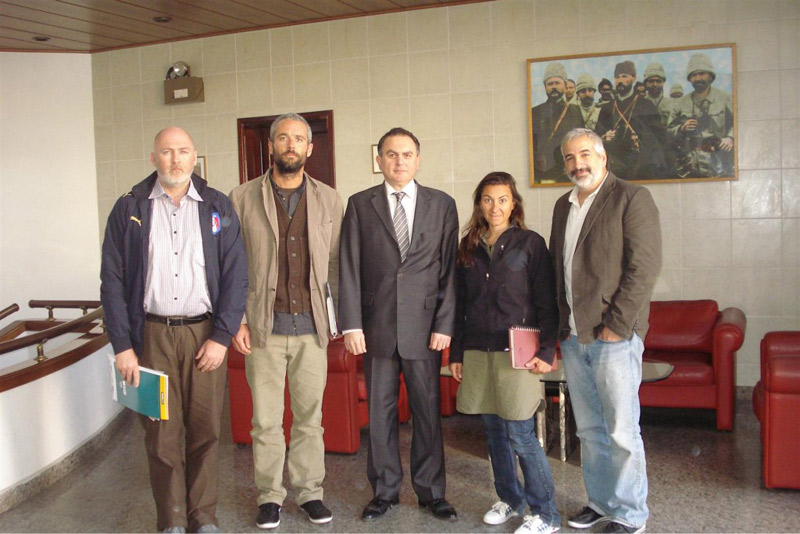 Four New York Times journalists — captured by pro-government forces last week in Libya — were released on Monday.
The four — Beirut bureau chief Anthony Shadid (pictured right), reporter Stephen Farrell (left) and photographers Tyler Hicks (second from left) and Lynsey Addario (second from right) — were captured last Tuesday while covering the conflict in the city of Ajdabiya. They were released into the custody of Turkish diplomats and are now in Tripoli, the Times said.
Government officials in Libya promised the Times last week that the journalists would be released unharmed.
"We are grateful that our journalists have been released, and we are working to reunite them with their families," the paper said in a statement. "We have been told they are in good health and are in the process of confirming that. We thank the Turkish, British, and U.S. governments for their assistance in the release. We also appreciate the efforts of those in the Libyan government who helped secure the release this morning."
In an interview Thursday with ABC News' Christiane Amanpour, Col. Moammar Gadhafi's son, Saif, explained why at least one of the journalists was detained.
"They entered the country illegally and when the army, when they liberated the city of Ajdabiya from the terrorists and they found her, they arrest her because you know, foreigners in this place," Saif Gadhafi said, apparently referring to photographer Lynsey Addario. "But then they were happy because they found out she is American, not European. And thanks to that, she will be free tomorrow."
The Times said the four, like many Western journalists, crossed the Egyptian border to enter the rebel-controlled eastern region of Libya without visas to cover the insurrection against Qaddafi.
Below, the memo (via Gawker) from Times executive editor Bill Keller on the journalists' release:
To the Staff:
We're overjoyed to report that our four journalists missing in Libya since Tuesday morning are free and have arrived safely in Tunisia. The Libyan government informed us through various channels Thursday afternoon that Anthony, Tyler, Lynsey and Steve were in Tripoli, in the custody of the Libyan authorities, and would be freed soon. The four were allowed to speak to their families by phone Thursday night. Because of the volatile situation in Libya, we've kept our enthusiasm and comments in check until they were out of the country, but now feels like a moment for celebration. And before long we'll all know the details of their experience.
We're particularly indebted to the Government of Turkey, which intervened on our behalf to oversee the release of our journalists and bring them to Tunisia. We were also assisted throughout the week by diplomats from the United States and United Kingdom.
Arthur spoke on Thursday about The Times as a family, and it certainly felt like one during the many hours of worry and activity focused on our missing journalists. In fact it felt like something of an extended family, as journalists from rival news organizations, governments (our own and others), press freedom groups and other intermediaries rushed to offer their help in locating our people and securing their release. There are too many people to thank, but I will tip my hat to David McCraw, who has become entirely too expert at the business of extricating Times journalists from peril. I also need to thank Chris Chivers, who dropped everything to come in Thursday night and spent the last three days (and nights) dug in with David working on the release.
And, in a week when we have dared to declare that the work we do is worth paying for, this is a reminder that real, boots-on-the-ground journalism is hard and sometimes dangerous work. To the many colleagues who are deployed in hard places — the battleground streets of North Africa and the Middle East, the battered landscape of Japan — we implore you to be careful.
Best,
Bill
[Photo via Turkish Embassy]