As uprising takes a violent turn, a roundup of coverage from CNN to Rupert Murdoch's Daily
As the protests in Egypt turned violent Wednesday, with pro-government demonstrators pushing back against the anti-government uprising, the media found itself at the center of a dramatic shift in the tone of the week-old uprising.
Also read: Anderson Cooper Attacked in Egypt; Media Becomes a Target
Here's a sampling of how CNN and others covered the most violent day in Cairo yet.
CNN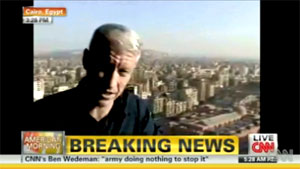 CNN's Anderson Cooper said he and his production crew were attacked by pro-government demonstrators earlier Wednesday, but unharmed. After escaping to a rooftop, he delivered several reports on "American Morning," including Molotov cocktails being tossed and dramatic video of a clash between pro and anti-government on the streets below. And CNN's constantly refreshed liveblog provided live updates from its reporters on the ground in Tahrir Square.
CNN didn't carry wall-to-wall Egypt coverage. They also covered the blizzard that stretched from Chicago to Boston, and an undercover investigation into Planned Parenthood.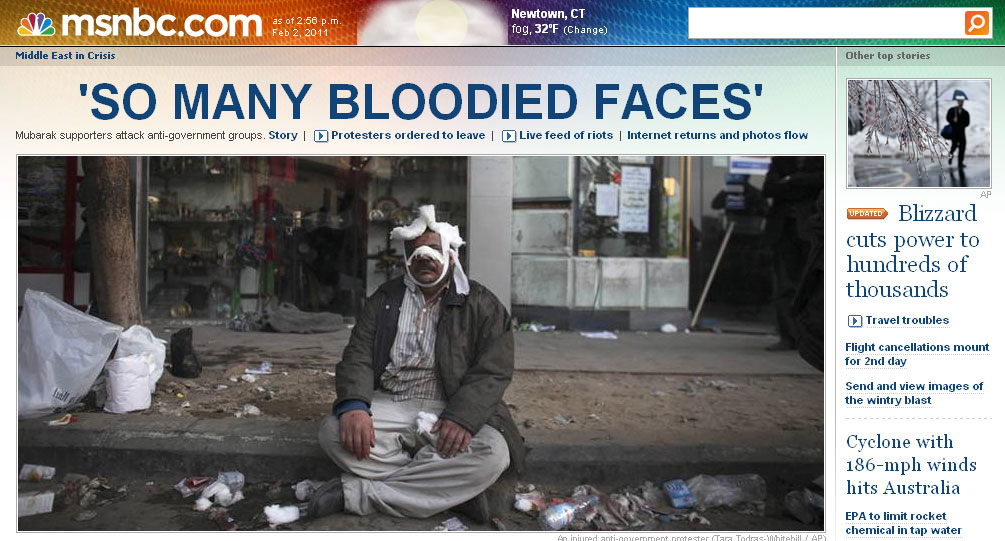 MSNBC
"So Many Bloodied Faces," MSNBC.com declared. Its on-air coverage focused on the bloodshed, too, and online MSNBC provided a live online feed of the protests in the square. MSNBC — which had NBC "Nightly News" host Brian Williams filing reports throughout the afternoon — was the first to report gunfire as night fell in Cairo. "We have no idea whether that gunfire was intended for human targets," Williams said. "All I can tell you is that we heard a cacophony of gunfire." (Oddly, MSNBC followed up Williams' report with "The Grio's 100 History Makers in the Making.")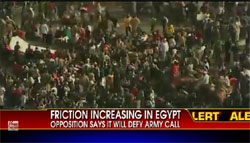 Fox News
Fox, which has the lightest presence on the ground in Cairo among the big three cable networks, was streaming video from Cairo throughout the day, with FNC correspondents Greg Palkot and Dominic Di-Natale filing reports there.
Shepard Smith was the first to report that the Egyptian army, which had been largely absent from Wednesday's clashes, was moving in on protesters near the square. "We're seeing the Egyptian military apparently changing their tactics," Ashley Webster reported on Smith's Studio B.
Washington Post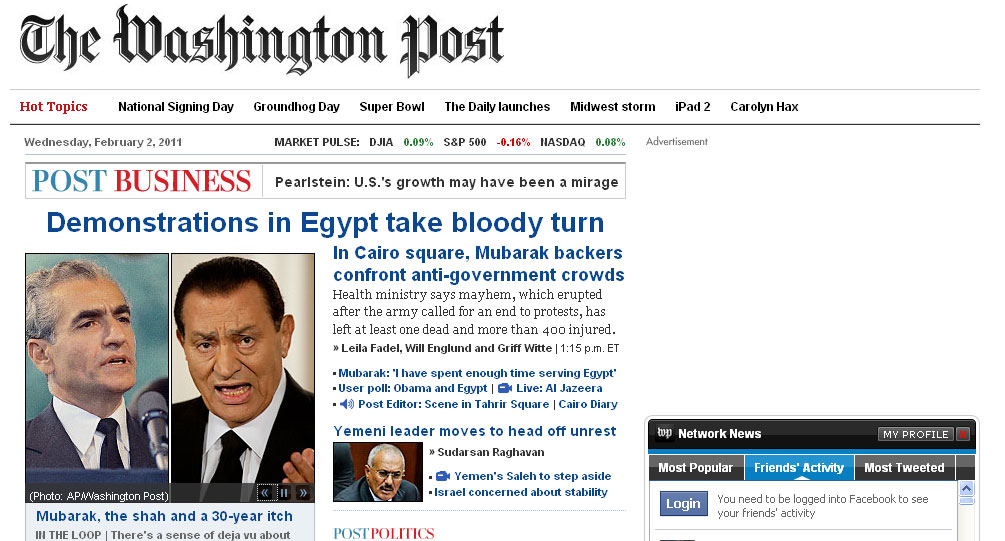 "Demonstrations in Egypt take bloody turn," the Washington Post said on its homepage on Wednesday. "In Cairo square, Mubarak backers confront anti-government crowds."
Among other features, the paper also spotlighted a panel discussion on leadership and Mubarak's fate "Would it be impossible for an entrenched leader like Mubarak to change course? Is new leadership the only answer? Weigh in."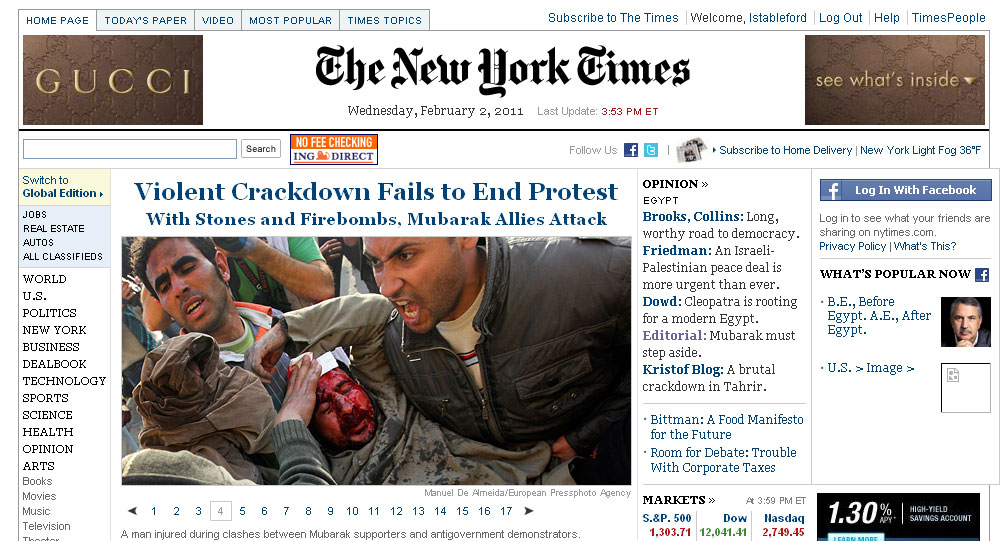 The New York Times
The Times focused on the violence, too ("Violent Crackdown Fails to End Protest,"
and "With Stones and Firebombs, Mubarak Allies Attack") telling the story on its homepage primarily with a rotating slideshow of the bloodshed.
The Times also called for an end to Mubarak's rule in a new editorial. "The announcement from President Hosni Mubarak of Egypt that he would not run for re-election was welcome, if he means it," the Times said, "but it was unlikely to be enough. It is up to the Egyptian people to decide. But as a proud nationalist, Mr. Mubarak can best contribute to Egypt's stability and future by stepping aside and letting an interim government take over until truly free elections can be held."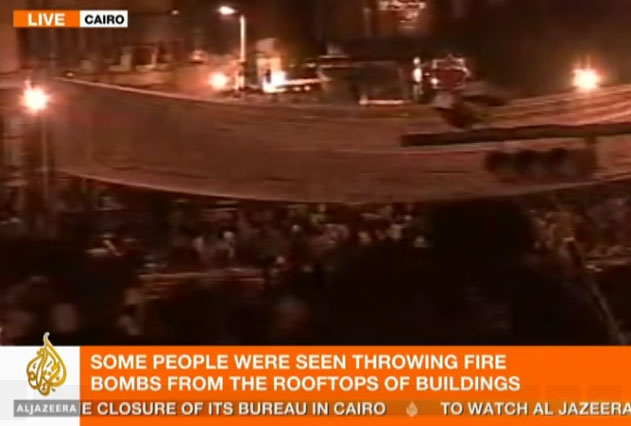 Al Jazeera
Al Jazeera — which until Wednesday was the main target of the Egyptian government's crusade against the media — continued to provide wall-to-wall coverage, despite the Mubarak-forced closure of its Cairo bureau (not to mention the brief arrest of six of its journalists).
Al Jazeera was also the first to note that the U.S. denouncement of the violence is the strongest language to come out of the White House since the unrest in Egypt began.
The Daily
Rupert Murdoch's brand-new iPad-only newspaper, The Daily, launched on Wednesday with a cover story on Egypt, "Fallen Pharoah: Obama pushes Mubarak to quit now as a million March in Egypt revolution." But as of 3:00 p.m. (ET), the story had yet to be updated with news of the violence in Cairo — an option news-driven iPad publishers have been touting.