So the day we'll never forget has come a day early, apparently: Apple's big iTunes reveal is the arrival of the Beatles catalog, according to the Wall Street Journal.
On Monday, Apple on its homepage teased a big announcement set for Tuesday morning, with the cryptic message: "Tomorrow is just another day. That you'll never forget." (Get it? Just "Another Day"? Beatles puns are the BEST, even if they're based on solo Paul McCartney songs.)
Read also: 2010 Looks to be John Lennon's Best Year Ever
The Journal posted the news Monday afternoon, citing people familiar with the situation that it didn't name. The move fills a nagging gap in the collection of the world's largest music retailer.
Talks to bring the Beatles to iTunes had been taking place as recently as last week among executives of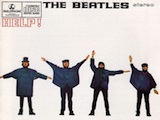 Apple, representatives of the Beatles and their record label, EMI Group Ltd., the Journal reported.
Those people warned that Apple – which, as we know, HATES when its surprises are spoiled – could change its plans at the last minute.
On another note, the move would be a big injection of cash for EMI, whose owners Terra Firma just lost a multi-million dollar lawsuit against Citigroup from the equity firm's 2007 takeover of the label. That loss could see the label either taken over by the bank or bought piecemeal by the likes of Warner Music.
Final note: Was Apple making another subtle hint with the four clocks (see image from site, above left, compared with the album cover for "Help!" at right).