Chrystia Freeland joins information and news service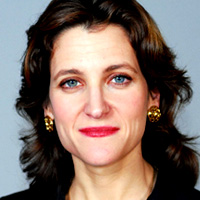 Reuters announced on Monday that it has hired Chrystia Freeland as its global editor-at-large, a newly-created position.
Freeland has served as the U.S. managing editor of the Financial Times.
She will be based in New York and report to David Schlesinger, Reuters' editor-in-chief.
Freeland will help plan Reuters editorial strategy," as well play a key role on Reuters Insider, a financial video service due to launch in the second quarter. Freeland will also serve as Reuters' "principal on-air pundit."