Michael Jackson's iconic red-and-black leather jacket from his seminal 1983 zombie musicvideo was a real thriller at auction this weekend, selling for $1.8 million.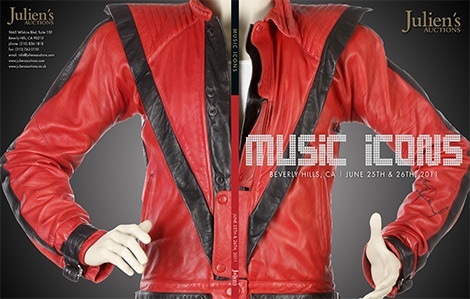 Julien's Auctions of Beverly Hills, which has sold treasures from the late King of Pop in the past, gave the "Thriller" jacket a much lower estimated bid — $200,000 to $400,000. The sale came exactly two years after the singer overdosed on Propofol, a powerful sedative normally used in hospitals.
It which will benefit Tippi Hedren's Shambala Preserve, home to two of Jackson's Bengal tigers for the past five years.
The jacket was designed by Deborah Nadoolman Landis, wife of "Thriller" director John Landis, who co-wrote the zombie movie homage with Jackson. The video was groundbreaking for its scope and length.
The jacket was one of more than 600 items up for bid during the Julien's two-day "Music Icons" auction. Other items included a music stand broken by Kurt Cobain, John Entwhistle's guitar from the Smothers Brothers Comedy hour in 1967, as well as one of Elvis's guitars.