Sony relaunches the franchise in 3D with a new director and cast. "Amazing Spider-Man" is connecting, analysts say, projecting a six-day July 4 haul between $120M and $140M
When the "The Amazing Spider-Man" swings into more than 4,000 theaters Tuesday, the villainous Lizard will be Spidey's on-screen nemesis. At the box office, the bad guys could be a foul-mouthed teddy bear and, down the road, a certain Caped Crusader.
Sony is confident that the fourth installment in the $2.5 billion franchise — it's been five years since the last one — will bring back fans and make new ones. And box office analysts agree, projecting a haul between $120 million and $140 million from the six-day July 4 weekend.
Those are huge numbers but not in the range of "The Avengers," which bowed with a record-breaking $207 million weekend, and likely not in the range of "The Dark Knight," which has been breaking pre-sale records.
The "Spider-Man" reboot, with Marc Webb ("(500) Days of Summer") directing in place of Sam Raimi and Andrew Garfield and Emma Stone in the lead roles, has been well-received by critics. The film is tracking very strongly, especially with males, and women appear to be intrigued by Stone and the love story.
Also read: 5 Things That Are Different About the New 'Spider-Man'
But last weekend's breakout box office performances by "Ted" and "Magic Mike" could create a hitch for the web-spinner, and if they over-perform in the their second weeks, it could have an impact on "The Amazing Spider-Man."
"The word of mouth on both of those films is very good," BoxOffice.com editor-in-chief Phil Contrino told TheWrap Thursday, "and 'Magic Mike' is still something of an event movie for many women."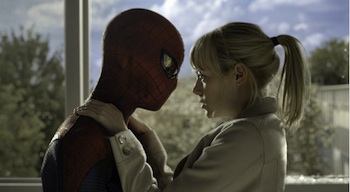 And while Warner Bros.' "The Dark Knight Rises" is still two weeks away, it's hard to argue that it isn't already casting a shadow on the box office. Warner Bros. made tickets available online in June, and presales have been significant.
Also read: AMC Adds 'Dark Knight Rises' Midnight Shows, Marathon Screenings to Meet Demand
"Sony has nothing to worry about," Jeff Bock, senior analyst at Exhibitor Relations told TheWrap Monday. "It's a great trailer, the critics love it, this is the first one in 3D. This is a proven commodity coming out on one of the biggest box office weekends of the year."
Sales for "Amazing Spider-Man" were surging at online ticket broker Fandango Monday, accounting for 57 percent of the day's business.
And Spidey will have the market largely to itself for the next two weeks, at least in terms of live-action tentpole competition. Fox's "Ice Age: Continental Drift" will bow July 13, but the second "G.I. Joe" film, starring Channing Tatum, has been moved to next year.
Domestic numbers matter, of course, but the "Spider-Man" franchise is a global phenomenon. The overseas percentage of the worldwide grosses has been over half and increased with each of the three previous Spider-Man films. Foreign grosses accounted for 62 percent of the $890 million global haul for "Spider-Man 3."
Also read: 'Amazing Spider-Man' Spins $50M in Overseas Box-Office Bow
Sony had to be encouraged by the overseas openings for "The Amazing Spider-Man," which brought in more than $50 million in three days from 13 markets, mostly in Asia. It opened stronger than "The Avengers" in some of those countries, and with its soccer championships over, most of Europe will be a clear field for the next two weeks.
Sony execs are disinclined to discuss it, but it's clear they're taking the long view on "The Amazing Spider-Man." From their standpoint, the success of "The Amazing Spider-Man" will be measured not simply by its box office over the next few weeks, but by the degree to which the franchise is reborn for a new generation of moviegoers.