With Christmas Eve falling on a Saturday, moviegoing dipped — but Hollywood expects audiences to return in strong numbers Christmas Day
Updated Sunday, 9:45 a.m. PT
Moviegoing tumbled — as expected — on Christmas Eve, but studios expect a busy Christmas Day. In fact, box-office watchers expect the weekend to end up some 3 percent over the same period last year.
Although "Mission: Impossible — Ghost Protocol" remained the box office leader Saturday, studio estimates show that the Paramount/Skydance movie's numbers fell about 36 percent, from $9.7 million on Friday to $6.2 million Saturday.
The numbers were similar for all of the major movies now in release:
"Sherlock Holmes — A Game of Shadows" remained in second place. The Warner Bros. movie dropped 41 percent — from $6.8 million to $4 million. Fox's "Alvin and the Chipmunks: Chipwrecked" was down 48 percent, taking in $2.8 million on Saturday compared to $5.4 million on Friday.
Sony's "The Girl With the Dragon Tattoo" fell from $4.6 million Friday to $2.5 million on Saturday — about a 46 percent drop. Paramount's "The Adventures of Tintin" dropped about 31 percent, to $2.4 million.
And Fox's "We Bought a Zoo," which opened to a slow $3 million on Friday, fell about 37 percent to $1.9 million on Saturday.
Studios expect a rebound today.
Christmas Day is traditionally a good day at the box office. Last year, for instance, "Little Fockers" dropped from $7.1 million on Dec. 23 to just short of $5 million on Christmas Eve — and then more than doubled, to $14.6 million on Christmas Day.
Despite this weekend's encouraging numbers, the year's overall box office will fall short of last year's.
Earlier:
Updated Saturday, 10 a.m. PT
"Mission: Impossible — Ghost Protocol" stayed on top of the box office Friday, pulling in an estimated $9.7 million.
The Paramount/Skydance action movie has grossed about $42 million domestically since its Dec. 16 release and is on track to take in around $40 million from Friday to Monday.
"Sherlock Holmes: A Game of Shadows," also in its second week of release, grossed $6.8 million on Friday. The Warner Bros. movie has now taken in $65.53 million in the U.S. It is looking at around $31 million between Friday and Christmas Day.
Fox's kiddie film "Alvin and the Chipmunks: Chipwrecked" was in third place Friday, with $5.4 million. That movie, also in its second week, has a total of $42.3 million. Rival-studio projections show it taking $21.5 million over the four-day weekend.
New movies didn't play as well as their week-old counterparts on Friday.
"The Girl With the Dragon Tattoo," Sony's adaptation of Stieg Larsson's novel, took in a respectable $4.6 million on Friday. It has grossed nearly $13 million since its release this past Tuesday evening.
The movie is on track to gross in the neighborhood of $21 million through Monday.
Paramount's other film in release, Steven Spielberg's "The Adventures of Tintin," grossed $3.5 million on Friday. The movie, which has taken in more than $239 million internationally, is looking at $14 million domestically through Monday.
Finally, Fox's "We Bought a Zoo," which opened on Friday, grossed $3 million. Box-office watchers outside Fox predict "Zoo" will take a bit more than $13 million in its first four days.
Earlier:
The Tom Cruise career resuscitation is in full force.
After testing fan loyalty with couch-jumping antics and tired film vehicles like "Knight and Day," audiences are flocking to accept Cruise's latest mission. "Mission: Impossible — Ghost Protocol" continued to lead the crowded holiday box office through Thursday.
Paramount's well-reviewed action sequel racked up $6.4 million in 3,455 locations, according to studio estimates. That brings its domestic total to $32.4 million. "Ghost Protocol" has earned $96 million internationally through Wednesday.
Buoyed by strong word of mouth,"M:I:4" is on pace to gross around $40 million for its six day holiday period.
Also read: Sagging Box Office Looks for a Christmas Miracle
After starting slow, "Sherlock Holmes: A Game of Shadows" has picked up steam this week. The Robert Downey Jr. sleuthing sequel earned $4.8 million on Thursday in 3,703 theaters. The Warner Bros. release has now earned $58.8 million domestically.
Warner Bros., meanwhile, is reportedly griping about the way that rival studios are tallying their box-office totals this weekend. The studio claims that Sony — which released "The Girl With the Dragon Tattoo" Tuesday — and Paramount, are bundling Tuesday evening's numbers in with their Wednesday totals.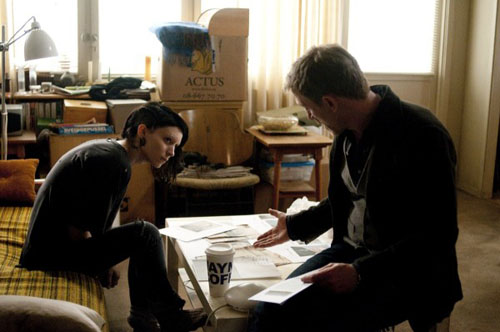 Also holding steady is Fox's "Alvin and the Chipmunks: Chipwrecked," which earned $3.9 million on Thursday, bringing its domestic take to $36.9 million. The family film is showing in 3,726 theaters.
"Dragon Tattoo" was just slightly behind the chipmunk sequel, earning $3.3 million on Thursday. The David Fincher film has grossed $8.4 million domestically. Sony thinks that the film's number will pick up toward the tail-end of the weekend, when holiday moviegoers are looking for some more adult fare to go with their spiked eggnog.
The adaptation of the Stieg Larsson bestseller should gross around $35 million at 2,914 locations through Monday.
After dominating the international box office for months, Paramount's other tentpole hopeful, "The Adventures of Tintin," is taking longer to find its stateside sea legs. The Steven Spielberg-directed animated film earned $2.4 million on Wednesday, bringing its domestic total to just north of $8 million. The film has earned $239.1 million at the worldwide box office through Sunday.
The adaptation of the popular Herge comics is expected to make just short of $30 million over the holiday period.
On Friday, the already overstuffed box office will reach the point of bursting. Fox's PG-rated comedy "We Bought a Zoo" opens wide in about 3,000 theaters, while GK Films' R-rated "In the Land of Blood and Honey" opens at three arthouses.
On Sunday, Disney opens DreamWorks' Spielberg-directed "War Horse," and Summit will unveil its PG-13 sci-fi thriller "The Darkest Hour."
If that doesn't revive the box office doldrums, you can't say Hollywood didn't try.