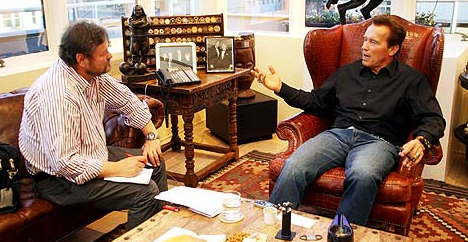 Outgoing California Governor Arnold Schwarzenegger said his job cost him about $200 million in lost income as a movie star while it tore his family up.
Schwarzenegger, leaving office after two terms as governor, told the newspaper in his native Austria, Krone, that counting expenses and lost income from acting in Hollywood films, "in all it is probably more than $200 million," according to a Reuters report.
A quick calculation: that would mean $25 million per year in acting and other jobs, since Schwarzenegger governed from 2003 to 2011. Some might have trouble believing that the 63-year-old former action star might have pulled that kind of income in the current Hollywood climate.
Regardless, the ex-governor said the toll on his family was worse, he said. "We hate your job," Schwarzenegger quoted family members as saying during his early years as governor when he would leave his Los Angeles home every Monday morning for the capital, Sacramento, and not return until the end of the week, Reuters said.
He said his children and wife, Maria Shriver, would break out in tears over his heavy work schedule.
"It was heartbreaking every time," said Schwarzenegger, a Republican who served as governor from 2003 until early this month. "In my second term of office, I did better. I tried to fly home every evening."
But still, Schwarzenegger said, "I'm not sorry. It was more than worth it."