Oscar winner Jennifer Hudson also pops up as a singing nun in the clip for the April 2012 Stooges flick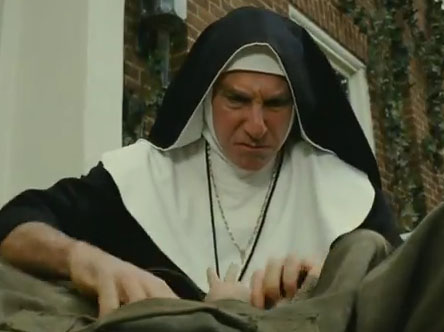 Larry David's a nun who gets an eye gouge, "Will & Grace" alum Sean Hayes is initially unrecognizable as Larry and "Jersey Shore" star Snooki plays herself in the first official trailer for Bobby and Peter Farrelly's "The Three Stooges" movie.
The film, set for release in April, also features "MADtv" and "$#*! My Dad Says" alum Will Sasso as Curly and "The Starter Wife" star Chris Diamantopoulos as Moe. The trio try to save their childhood orphanage and end up in a murder mystery and starring on a reality TV show.
Read more: Johnny Knoxville Says 'No' to Moe
Check out the trailer below to see other "Stooges" co-stars — including Jane Lynch, Sofia Vergara, and Jennifer Hudson — and a tender moment between Moe and Snooki: