Scott Rudin goes shopping, and Armond White keeps going off
In this morning's roundup of movie news 'n' notes from around the web, Scott Rudin goes shopping and Armond White keeps going off.
Does
Scott Rudin
want out of his Miramax deal?
So says Claudia Eller
, who reports that uncertainty over the future of the Disney-owned company isn't sitting well with the producer who brought Miramax its one post-Weinstein Best Picture winner, "No Country for Old Men." With a number of movies in the pipeline but Miramax up for sale, Rudin is reportedly in negotiations to end his deal three years early, and to take his rather substantial pedigree (and reputation for being, shall we say, abrasive) elsewhere. Elsewhere most likely being Sony, assuming he can extricate himself from Disney. (
Company Town
)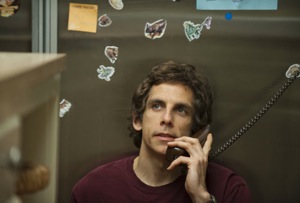 Ben Stiller" />Oh, my. This Armond White/"Greenberg" thing is getting even crazier than it was before. New York Press critic White, you may remember, was very upset to be disinvited from an advance screening of Noah Baumbach's new film, though he had a long history of trashing the writer-director, occasionally in terms that some found offensive. Now that he's seen the film, White looks back on the furor and writes, "I must rise above it." Then he proceeds to wallow in it for about 2,300 words – out of which, by my rough count, around 335 might actually count as a review of "Greenberg" (with Ben Stiller, right). The rest of the piece consists of outraged attacks on fellow critic J. Hoberman, and overheated defenses of "free speech," which in this case seems to mean the freedom to be invited to movie screenings. (New York Press)
And then
Hoberman answers back.
Actually, he doesn't really answer at all – he just kind of grins and points out that White has called him "the unprofessional, pro-censorship, illiterate, warped, vicious, calumnious, sneaky, underhanded, self-serving, morally reprehensible, small-minded, vain, corrupt, lying perpetrator of 'a racist lynching' — a contemptuous, pathetic, angry, conspiratorial, despotic, crypto-Communist brownshirt 'attempting to besmirch opponents and write them out of history.'" So now Hoberman readers who don't get the New York Press know, too. (
Village Voice
)
Jeff Wells looks at "Waking Sleeping Beauty,"
the upcoming Disney-financed documentary about how
Michael Eisner
and
Jeffrey Katzenberg
revitalized Disney animation with a string of late '80s and '90s hits, including "Who Framed Roger Rabbit," "The Little Mermaid," "Beauty and the Beast," "Aladdin" and "The Lion King." Though he has quibbles about a certain tidiness and narrowness of vision – directors Don Hahn and Peter Schneider worked at Disney during the period in question – Wells calls the Eisner-Katzenberg era "the most productive, commercially bountiful and accolade-filled period in the annals of 20th Century animation." But he doesn't mention that just as Disney was losing some of its magic touch, Pixar came on strong with a string of successes that is even longer and in certain ways more impressive. I mean, if "Toy Story 3" is a critical and commercial hit – and its ShoWest debut this week certainly suggests that it will be – that'll mark 11 in a row for
John Lasseter
's (Disney-distributed) company. Has
anybody
ever had a record like that? (
Hollywood Elsewhere
)
The New Yorker does one of those patented East Coast eyebrow-raisings as it considers a silly West Coast ritual – in this case, the Publicists Guild Awards, which took place two days before the Academy Awards. (Why'd it take so long to react, Marshall Heyman?) At least three of the show's participants – host Mario Lopez, winner Ernest Borgnine and presenter George Clooney – congratulated the assembled flacks for being so good at lying. Apparently this was not an entirely popular sentiment in the room, though of course Clooney can get away with saying anything he wants. (The New Yorker)