Magnolia Pictures acquires David Gelb's movie about 85-year-old sushi chef Jiro Ono and the complex relationship the master has with his son
In the first sale of this year's Tribeca Film Festival, Magnolia Pictures has acquired North American rights to the documentary "Jiro Dreams of Sushi," about master sushi chef Jiro Ono, the company announced Wednesday.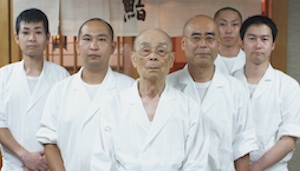 The film marks David Gelb's directorial debut.
"Jiro Dreams of Sushi" documents Ono (pictured center) at work at his famed restaurant, Sukiyabashi Jiro. It also shows the complicated relationship Ono has with his son, who is the heir to Sukiyabashi Jiro.
Kevin Iwashina, of Preferred Content, produced the movie with Tom Pellegrini. Matthew Weaver is executive producer.
Magnolia's SVP, Tom Quinn, negotiated the deal with Iwashina on behalf of the filmmakers. Fortissimo Film Sales is handling international sales.
Magnolia is the theatrical and home entertainment distribution arm of the Todd Wagner and Mark Cuban's 2929 Entertainment. That group of media properties also includes the Landmark Theatres chain and HDNet.