"Amour" and "The Intouchables" will almost certainly occupy two slots when the Academy announces the nine shortlisted films in its Best Foreign-Language Film category on Friday – but the seven films that will join those entries from the biggest international field ever remain a major question mark on the eve of the shortlist announcement.
With a record 71 films in contention and only nine slots available on the list, the volunteers that make up the foreign-language general committee have been viewing contenders for the last two months, finishing with a burst of activity that found 29 films screened in 18 days.
Judging from conversations and email exchanges with general-committee voters who did not wish to be identified handicapping the race, the group embraced France's crowd-pleasing "The Intouchables" (left), which screened for members on Halloween night. (Many had already seen the Weinstein Company release during its successful theatrical run.)
And many responded to Michael Haneke's Austrian entry, "Amour," which screened for the committee a week earlier and is both the Palme d'Or winner and the most-acclaimed international film by critics' groups.
Also read: Oscar's 2012 Foreign-Language Submissions: The Master List (Complete)
Other films that have played well to the general committee, according to members, include Norway's epic "Kon-Tiki," the Czech Republic's "In the Shadows" and Chile's "No," with Gael Garcia Bernal (below).
Gael Garcia Bernal in No" src="http://www.thewrap.com/sites/default/wp-content/uploads/files/Foreign-no.jpg" style="width: 250px; height: 140px; margin: 15px; float: right;" title="" />The Danish costume drama "A Royal Affair" would seem tailor-made for a body of voters known to be older and more conservative, but I've heard wildly differing stories about how it played to voters — some consider it a sure general-committee pick, while others insist the response at its official screening was unexpectedly muted.
A few films that screened at the tail end of the process won favorable notices from members, among them Canada's "War Witch," Germany's "Barbara" and the final film screened for voters, Kenya's "Nairobi Half Life." Still, with screenings six days a week between Nov. 30 and Dec. 17, you can forgive voters for feeling weary by the end – and one reported that "very few were left in the theater" for "Nairobi Half Life."
A small crowd, though, does not necessarily work to a film's disadvantage, because voters score each entry on a scale of 6-to-10. The films with the highest average score, rather than the most votes, make the shortlist.
Other entries that have picked up good buzz include Israel's "Fill the Void," Switzerland's "Sister" (left), Australia's "Lore," Italy's "Caesar Must Die" and the Netherlands' "Kauwboy."
Iceland's "The Deep," by director Baltasar Kormakur, has had a high profile recently, with Mark Walhberg throwing a party for Kormakur, with whom he has made two films. Sweden's "The Hypnotist" is a thriller, a genre not usually embraced by voters in this category, but it has the advantage of being directed by Lasse Hallstrom ("My Life as a Dog," "Chocolat"), who has had Oscar success in the past.
Spain's entry, "Blancanieves," has echoes of last year's Best Picture winner "The Artist" with its stylish, silent, black-and-white retelling of the Snow White story; it also just landed the opening-night slot at the Palm Springs International Film Festival, a significant showcase for Oscar foreign entries.
Outside possibilities from the general committee, according to some members, include Afghanistan's "The Patience Stone," Greenland's "Inuk," Brazil's "The Clown" and South Africa's "Little One." But with a relatively small body of voters, most of them seeing no more than two dozen movies, it's nearly impossible to track all the potential surprises.
Only six shortlisted films are chosen by general committee voters. The other three come from the Foreign-Language Film Award Executive Committee, a group of 20 Los Angeles-based AMPAS members.
That group will convene on Thursday night, when a PricewaterhouseCoopers rep will reveal the six films with the highest general-committee scores. The executive committee will then make three of its own choices to complete the shortlist.
That controversial system has existed for five years, put in place at the request of the AMPAS Board of Governors after the embarassing omission of significant films like "4 Months, 3 Weeks and 2 Days" and "City of God."
Also read: Changes in the Controversial Oscar Foreign-Language Process? Don't Hold Your Breath
It's safe to say that a nominee like 2010's bizarre "Dogtooth" could only have come from the executive committee. Last year's biggest surprise among the nominees, Belgium's brutal "Bullhead," and Peru's understated 2009 nominee "The Milk of Sorrow" were also said to be exec-committee saves by people who know the process.
Because the executive committee is deputized partly to make up for obvious oversights, it is virtually guaranteed to save "Amour" in the unlikely event that the film isn't chosen by the general committee.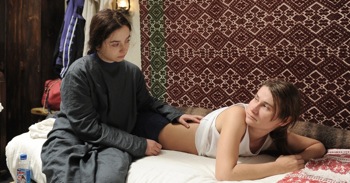 South Korea's violent, kinky "Pieta" would almost certainly need the executive committee's help to advance; so would Belgium's chilling "Our Children" and Romania's "Beyond the Hills," whose director, Cristian Mungiu, who was famously snubbed for "4 Months, 3 Weeks and 2 Days."
Still, there's no telling which films may have caught the exec committee members' fancy. Last year, I expected them to go for "Once Upon a Time in Anatolia" or "The Turin Horse," but instead they apparently picked "Bullhead" – though I hear that "Anatolia" came close.
If I had to guess, I'd say that the shortlist will consist of "Amour," "Barbara," "In the Shadows," "The Intouchables," "Kon-Tiki," "Lore," "No," "Sister" and "War Witch," with "A Royal Affair," "Fill the Void" and "Nairobi Half-Life" strong alternates.
But I fully expect the Academy to go its own way when the shortlist is announced on Friday morning. It wouldn't be the Oscar foreign-language category without a surprise, a shock or a scandal or two.