The desert heat couldn't keep Anthony LaPaglia and Michael Rosenbaum away from promoting their respective shorts in the Palm Springs International ShortFest.
The hot social outings over the weekend were the poolside Persol Filmmaker Party at the Ace Hotel on Saturday night, and the filmmaker and industry-only brunch on Sunday morning. (Jon Bloom, chair of AMPAS' Shorts and Animation branch Jon Bloom and "Hotel Rwanda" director Terry George were expected at the midday soiree.)
Others seen in the desert included Sharon Badal (Tribeca Film Festival), Andrew Crane (American Cinematheque), Ben Kramer (CAA), and jurist Allison Anders (Director, "Mi Vida Loca").
The fest, continuing through Monday, screens 331 shorts over its seven day run in the desert.
***
Jack Black has gone to the prom — twice.
The "Kung Fu Panda" star has attended the Renal Teen Prom the last two years, an event hosted by Lori Hartwell's Renal Support Network for children with life threatening kidney diseases who are not able to attend their own prom.
(Left, Hartwell , Family Guy's Mark Hentemann, and Black. Photo by Susan Whitney.)
Black joined industry advocates of organ and tissue donation at the Donate Life Hollywood Inspire Awards at the Avalon on Wednesday night.
Inside, Susan Whitman Helfgot, the wife of the second face donor in America presented an award to "Boston Med" producer Carl Hansen, who featured her husband's donation on the finale episode of the ABC documentary series last year.
Other shows honored for changing the portrayal of organ and tissue donation in entertainment ranged from "Grey's Anatomy" to "Family Guy'. "This is the first time 'Family Guy' has won an award for being medically accurate," exec producer Mark Hentemann said.
***
The whole room at the Sunset Tower stood up to cancer — literally — for a moment of silence for Laura Ziskin on Tuesday night.
Ziskin had been scheduled to be an honoree at the night's Prevention Honors Hollywood Heroes before the producer's passing on June 12.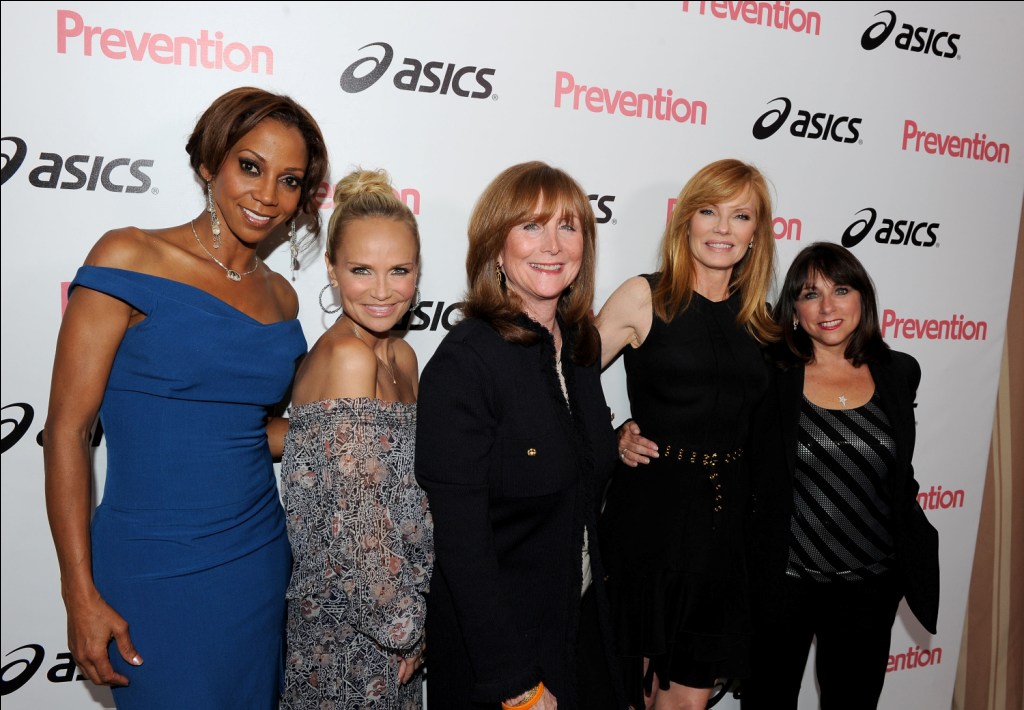 Co-founders of Stand Up to Cancer Rusty Robertson and Sue Schwartz accepted on Ziskin's behalf.
"It's an extremely emotional night tonight because we just lost our Laura, our fearless leader, our best friend, our cofounder of 'Stand Up to Cancer' just a week ago yesterday," Robertson said. "Laura would continue to tell people what a difference they can make."
Other "Heroes" included Marg Helgenberger (on behalf of the Race to Erase MS), Kristin Chenowith (for Maddie's Corner, and whose mother is a survivor), and Holly Robinson Peete (HollyRod Foundation).
Asics joined publisher Laura Petasnick and Prevention's multi-media healthy lifestyle brand for the intimate evening. Above, Robertson (center), and Schwartz (right) with the honorees. (Photos by Michael Buckner.)
***
Three-D may be underperforming at the box office, but HTC is betting on casual filmmakers instead.
The hardware makers launched a phone with a 3D camera — the HTC EVO 3D — with a rocking LMFAO-headlined party at the RadioShack Pop Up Lounge in West Hollywood on Thursday night. (They first teased the phone to Hollywood with a few private "hands-on" tests at at Lacoste's Coachella event back in April.)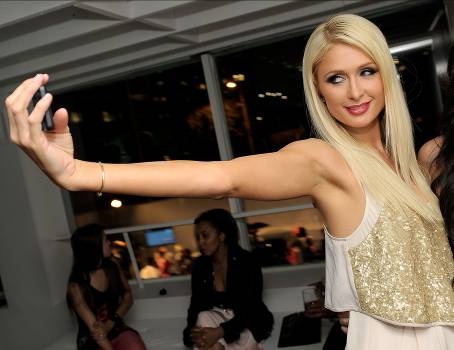 This guy knows a thing or two about 3D: "Avatar's" Joel David Moore shows off the technology to long time buddy and occasional basketball teammate Zach Levi.
Because "The Bad Girls Club" is outperforming Paris Hilton's latest reality offering by more than twice the ratings on Oxygen, this self-portrait is likely to be the only near-term 3D project for the former reality queen.
(Going the other direction on the same day, Forbes magazine tapped fellow reality celeb-prenuer Lauren Conrad for a four month stint as a lifestyle contributor, sharing details on her "Lauren Conrad, Inc." brand.)
Before heading off to the UK for the Wireless Festival, LMFAO rocked the HTC crowd which included Erika Christensen, Brenda Song, Harold Perrineau, and Amber Rose, who changed wardrobe in between two nearby Beverly Boulevard parties. (Photos by Charley Gallay.)
Of note, this was the first major event for EFG PR since long time publicist and event guru Alexis Wallsh departed to become the new director of PR at Feinstein/McGuiness PR (The Creative Coalition, Style Lounge).
***
Across from the Radio Shack pop-up on Beverly Boulevard, Dodger star Matt Kemp hosted Louis Vuitton's celebration of their opening in the Beverly Center, sponsored by Hennessy Privilege.
Frequent hip-hop girlfriend and gossip fixture Rose also hit this event, as did L.A. Clipper Craig Smith, who rode up to the new seventh floor spot to peruse the luxury leather.
***
On Wednesday, Jennifer Love Hewitt came through the drag queen bingo fundraiser for Caroline Kunitz's LA Diaper Drive at Hamburger Mary's. (Producer husband Matt Kunitz found a window to attend despite his streak this summer — premiering both "Wipeout" and "101 Ways to Leave a Gameshow" for ABC last week, while rebooting "Fear Factor" for NBC.)
LA Diaper Drive helps local mothers decide between putting food on the table or diapers on their babies with diaper assistance for low income families. Disclosure: I know, have worked with, and like both Kunitzes.