President Obama and Ricky Martin teamed up on Monday for a fundraiser at New York's Rubin Museum of Art, where the president strengthened his stance on marriage equality after his breakthrough announcement last week.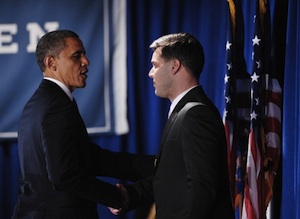 The "La Vida Loca" singer highlighted Obama's gay marriage move in introducing the president to the well-heeled crowd.
"We admire his courage, like the courage he showed last week in affirming his belief in marriage equality," Martin said. "That is the kind of courage we expect from our president and that is why we support him."
Also read: Obama's Hollywood Heavyweights: Who's Who and How Much
Martin also hailed Obama as a leader in touch with his era: "We elected the right president at the right time," the singer said.
After addressing the economic climate and what's at stake in this year's election, President Obama picked up on Martin's marital theme. "I want everyone treated fairly in this country," he said. "We have never gone wrong when we've extended rights and responsibilities to everybody. That doesn't weaken families, that strengthens families."
The president also sounded a hopeful note about his prospects at the polls, predicting that "this election is going to be about values," and adding, "The good news is, I think the American people are on our side."
Joining Ricky Martin and the president at Monday's event was actress Eva Longoria, who's currently playing the real-life role of Obama campaign bundler as November's election approaches.