Last week on Bravo's "Real Housewives of Atlanta," Cynthia's one-year anniversary party ended in her sister Malorie's tears. Peter was thrilled with that ending.
Malorie has finally decided to stop interfering with her sister's marriage and go back to France to tend to her own wedded bliss. Cynthia was content with that ending.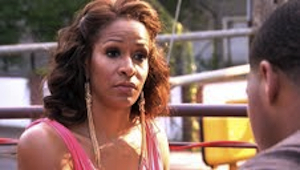 Happy endings all around, relationships remained the focal point of this episode as Kandi and Kim reconciled, agreeing to leave what was said –or not said– in South Africa behind them.
NeNe met with a divorce lawyer, but she's now reconsidering finalizing her separation from Gregg. To facilitate her decision, she met with a therapist, but no clarity could be found and the pen still hangs pensively over the divorce papers.
Kandi's musical union with Jo Dee Messina was revisited as they collaborated on yet another country song. "If Money Grew on Trees" was showcased at Bluebird Café in Nashville to an audience of artists and songwriters despite Kandi's hesitancy.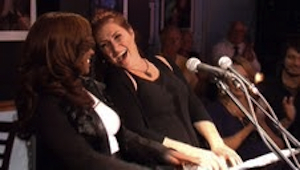 It debuted to a packed house and if all goes well Kandi will remake the hip-hop crossover hit, "If Money Grew on Trees I'd Cut Them Down and Finally Build My Chateau Where They Used to Grow", the Sheree remix.
Sheree is a financial whiz with the uncanny ability to replace luxury repo vehicles with newer luxury vehicles at a mere wiggle of her nose and snap of her fingers. Blessed with money wizardry, she decided to bestow her magical advice on her daughter and her daughter's wary boyfriend when she found out they were planning marriage.
The wary boyfriend is rightfully concerned about Sheree's unsolicited help buying an engagement ring, as she doesn't tend to use her powers for good. Wedding planning pointers from Peter would have been better. Although Sheree will also have them borrowing money from Cynthia before her daughter's bouquet is tossed. Maybe they should hire past honorary housewife Dwight as the party planner.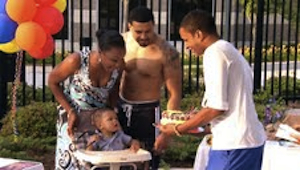 Dwight made a comeback at Phaedra's son Ayden's first birthday party and had the children gleefully searching for Count Dracula as he counted down the twelve cakes representing each month Ayden has been alive during their reveal. In full make up and a three-piece suit in the heat of summer he helped deliver a strange party as only Dwight and Phaedra combined can do. Last year's baby shower? Never forget. And next week's christening looks equally unforgettable.
Coming to the realization that it was all caught on camera, Marlo finally confessed to Lawrence that she did use the inflammatory F-word in reference to gays, having denied it at last week's party. She'll never say it again, she swears.
Never in front of cameras anyway.