The "Law & Order" vet jumps networks to join Susannah Grant's supernatural medical drama
S. Empatha Merkerson has joined the cast of CBS's as-yet-untitled supernatural medical drama written by Susannah Grant. The pilot episode will be directed by Jonathan Demme.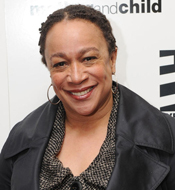 A CBS spokesman confirms that the long-time "Law & Order" star will play Rita, the no-nonsense assistant to an ambitious surgeon (Patrick Wilson) whose wife begins helping him from beyond the grave after her tragic death.
In the pilot script written by "Erin Brockovich" scribe Grant, Rita is introduced four pages in thusly: "Michaels assistant, RITA (50's; don't cross her)." Sounds like a firecracker, much like Merkerson's long-time "Law & Order" character, Lt. Anita Van Buren.
See also: Fall TV Pilots: CBS
The 58-year-old Michigan native has the not-unenviable distinction of being the longest-tenured "Law & Order" universe. She racked up a whopping 390 episodes of the original series during her 1993-2010 run as Lt. Van Buren.
The casting news was first reported by The Hollywood Reporter and Deadline.