At Sony Pictures Classics, awards season is starting to look very crowded.
The company, one of the few to acquire films at the Toronto Film Festival, is promoting 13 titles for Oscar consideration — starting with one Best Picture frontrunner, "An Education," and a possible second nominee in "The Last Station."
Has it taken on too much?
In these economic times, does a small company have the resources to juggle 13 campaigns — some pitting its films against each another?
"The idea that an Academy campaign requires millions of dollars, those are the old days," he says. "Yes, you do have to spend where it's necessary. But I think you're jumping to a conclusion that some outrageous amount of money has to be spent to get into the conversation, and that's just wrong."
But the abundant contenders haven't changed the company's basic plan for Oscar, Barker said.
"The key to Academy campaigns is to get Academy members to see your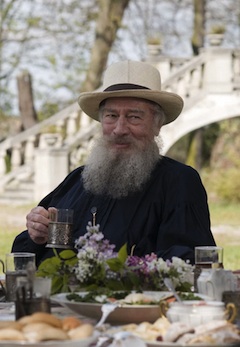 film. And that is really all you can ask for. You run your ads, you have your screenings, you send the DVDs, you do that to encourage Academy members to actually see your film. And the idea of persuading the Academy in other ways, I just don't buy that."
Which is not to say, he admitted, that the strategies to get voters to watch the films haven't shifted over the year.
"I think when the awards show was a month later, you could get more Academy members to see your film if you opened your movie very late in the year," he told TheWrap. "When they moved the date up to February, places like the Toronto Film Festival and the Telluride Film Festival, they became more important as a platform to get Academy members' attention."
Sony Pictures Classics has a history of paying reasonable prices for small movies, and getting a decent return.
It doesn't release blockbusters or Best Picture winners, but its understated business plans reduce risk and keep it in business. And juggling multiple awards candidates is, for the company, nothing new.
In 2001, it had multiple nominations for "Crouching Tiger, Hidden Dragon" and "Pollock," and five wins between the two films.
"It's happened to us many times, and I can't think of one instance where it became a problem," Barker said. "We just try as hard as we can to get those that we think have a shot nominated, and we don't think beyond that moment. And then, when you see what the nominations are, you try to be fair with it," he said.
"Awards can certainly help a film, and we try to take advantage of those opportunities," Barker said. "But we don't buy pictures because of awards. We have always pursued the pictures that we think will do well in the marketplace, the pictures where we think there's an audience out there of an appreciable size to make it work."
Even at this year's fall festivals, where Sony Pictures Classics' acquisitions included "The Last Station," "Get Low" and "Mother and Child" (the latter two potential awards contenders that have been held until 2010) while most other independent companies declined to buy any films, Barker said the company was merely adhering to the same plan that has seen it through rough times before.
"Yes, it's true that there were many films that were not bought at Toronto, and the global economic crisis certainly contributed to that," he said. "But it's not like we haven't seen this before in our business. I remember going to Toronto about 12 years ago and being the only company coming out with acquisitions at that time as well."
In the end, he said, this talk of all of SPC's Oscar contenders leaves out one fact: Until the nominations are announced, nobody really knows if this will be a good year or a bad one for Sony Pictures Classics at the Oscars.
"Every few years we're lucky enough to be in a good spot for consideration," Barker said. "And this looks like one of those particularly rich years. But you never know until it happens."