JJ Abrams follow-up disappoints some critics and bloggers
Going into the summer movie season, "Star Trek Into Darkness" seemed like the rare blockbuster film that could delight both audiences and critics. After all, reviewers swooned for JJ Abrams' 2009 re-imagining of the travels and travails of the U.S.S. Enterprise crew and its mission to "boldly go…," well you know the rest.
The sequel brings back the original cast of Chris Pine (Capt. Kirk), Zachary Quinto (Mr. Spock) and others and adds a velvet voiced villain to the mix in Benedict Cumberbatch's "John Harrison," but if the early reviews that begin popping up on the Hollywood trades and fansites this week are to be believed, it fails to capture the zest and adrenaline of the first film in the rebooted franchise.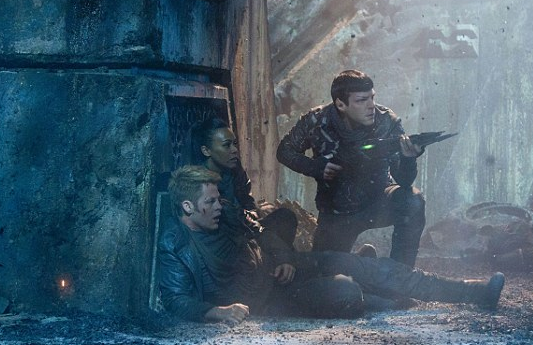 "Star Trek Into Darkness" hits theaters on May 17, so it could pick up support as more reviewers see the film, but the initial response was mixed.
Comingsoon.net's Silas Lesnick slammed the film for being narratively incoherent, calling it a "shameful" chapter in the "Star Trek" cannon.
"Offering a nonsensical mess of conspiracy theory, 'Into Darkness' ends up becoming something stuck midway between a muddled Truther metaphor and a nearly beat-for-beat remake of the identically-plotted 'Star Trek: Nemesis,' widely regarded as the franchise's worst entry," Lesnick writes.
If Lesnick faults "Into Darkness" for borrowing too liberally from "Nemesis," Ain't It Cool News' Mr. Beaks (please let that be a pseudonym) chastises it for aping "Wrath of Khan" too liberally. He gripes that Abrams has diminished the good will he established with his first sprucing up of Kirk and company.
"The problem is right there in the title: 'Star Trek Into Darkness' insists on its own weightiness. That it forces its hand by shamelessly pilfering from the greatest big-screen Trek of them all is unforgivable," Mr. Beaks writes. "It's so misguided that, frankly, it makes 'Star Trek' '09 look like a lightning-in-a-bottle accident."
Despite those painful notices, there were fanboys and movie bloggers who enjoyed the film. Germain Lussier of Slashfilm, for example, acknowledged that the sequel could not live up to its predecessor, but said it was an enjoyable enough ride to be judged favorably on its own merits.
"In the first set of Star Trek movies, the second film exceeded the first in every way imaginable. 'Star Trek Into Darkness' is not 'Wrath of Khan,' Lussier writes. "It's more like 'The Voyage Home'; a fun but frivolous sequel. Even if that comparison means nothing to you, there's a good chance you'll enjoy 'Star Trek Into Darkness' a ton. The goods are there; unfortunately they don't have more impact."
Likewise, Drew McWeeny of Hitfix said that "Into Darkness" may play better with average moviegoers than it does with the "Star Trek" diehards. In his estimation, the movie has the pulse and verve of an enjoyable summer blockbuster.
"'Star Trek Into Darkness' is a sober, aggressively-entertaining exploration of some of the richest characters in all of pop science-fiction, and it should cement this as one of the most potentially thrilling series running," McWeeny writes.
Moreover, mainstream critics were gentler in their assessment. Variety's Scott Foundas acknowledged that this "Star Trek" film may not break the mold, but the parts it rehashes remain enticing.
"The best, even-numbered films in the original 'Trek' film franchise were shaped by the guiding intelligence of writer-director Nicholas Meyer, who laced the Starfleet jargon with high-toned literary references and a gently self-mocking sense of humor," Foundas writes. "Abrams, too, manages to keep the mood buoyant even when the fate of the universe is hanging in the balance, more than earning his tears when he finally decides to milk them."
Chris Tookey of the Daily Mail praised the film for being an outerspace swashbuckler in the tradition of Errol Flynn — an exciting confection that is infused with humor.
"The important thing in these first two Star Trek blockbusters after a long break was to get people to see this kind of space opera and care about the central characters," Tookey writes. "Both films have succeeded triumphantly in doing all that."
Not every member of the old critical guard was delighted. The Hollywood Reporter's Todd McCarthy, for one, faulted the film's visual style.
"As seen in normally dynamic 3D IMAX, however, the film looks surprisingly flat, bordering on cheesy; the images are pale, thin, bleached out, makeup and facial blemishes are magnified and the very shallow depth-of-field in many shots (not the CGI but real photography) works against the point of the format," McCarthy writes. "After a steady progression in the brilliant visual quality of big-budget, effects-heavy major releases over the past couple of years, this one takes a few steps backwards."