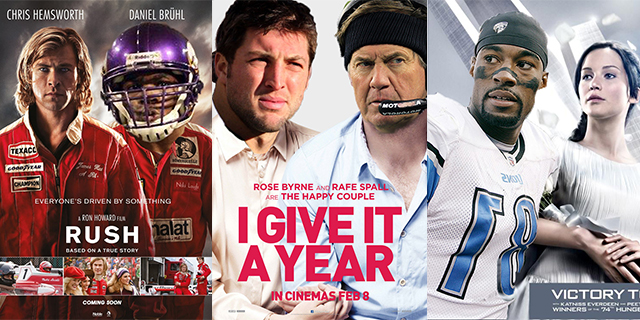 It's almost August, which means there's only one sport worth caring about — fantasy football.
With draft days fast approaching, TheWrap turns to its resident fantasy expert to analyze the upcoming season just for you Hollywood types, in a way you can easily relate to — with current movie titles. Enjoy!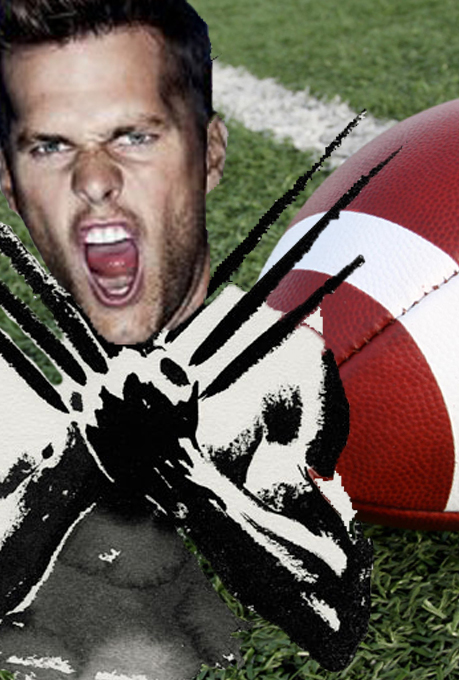 QUARTERBACK
THE WOLVERINE – Tom Brady, New England Patriots
Brady may have lost Wes Welker to Denver and Aaron Hernandez to prison, but like Hugh Jackman's signature character, you can never count him out. Sure, his numbers are regressing, but Brady loves to prove his doubters wrong. Expect him to finish the year as a top-5 QB, even if the Patriots end up signing Jackman as a receiver.
DELIVERY MAN – Aaron Rodgers, Green Bay Packers
A model of consistency, Rodgers is again the top-ranked fantasy QB because he never fails to deliver. If Vince Vaughn can father 533 kids, I can see Rodgers throwing 53 touchdowns. Losing Greg Jennings to a division rival hurts but Rodgers still has a solid receiving corps, so if you don't want to take an RB in the first round, Rodgers is your man.
THE GRANDMASTER – Peyton Manning, Denver Broncos
Manning proved last season he wouldn't let a nagging neck injury keep him from winning, and now he has added another significant weapon to his already impressive arsenal in Wes Welker. Until Manning rides off into the sunset, he'll be the top-5 QB everyone looks up to, just as Bruce Lee looked up to "The Grandmaster" who trained him in martial arts.
YOU'RE NEXT – Colin Kaepernick, San Francisco 49ers
After coming in off the bench and leading the 49ers to the Super Bowl, Kaepernick landed on the cover of ESPN's 2013 Fantasy Football Preview for good reason. He's uber-athletic and can make plays with both his arm and his feet. Now that he has some experience under center, Kaepernick could be a killer mid-round selection. Don't axe him off your list.
SHORT TERM 12 – Kevin Kolb, Buffalo Bills
If you're looking for a backup QB, you may want to stay away from Kolb. While he may begin the year as Buffalo's starter, don't be surprised if the team's first-round draft pick E.J. Manuel assumes the position at some point. The Bills didn't make Manuel the first QB taken in this year's NFL Draft for nothing.
Also read: NFL Stars Chris Johnson and Devin Hester Kick Off Nat Geo Wild's Big Cat Week (Exclusive)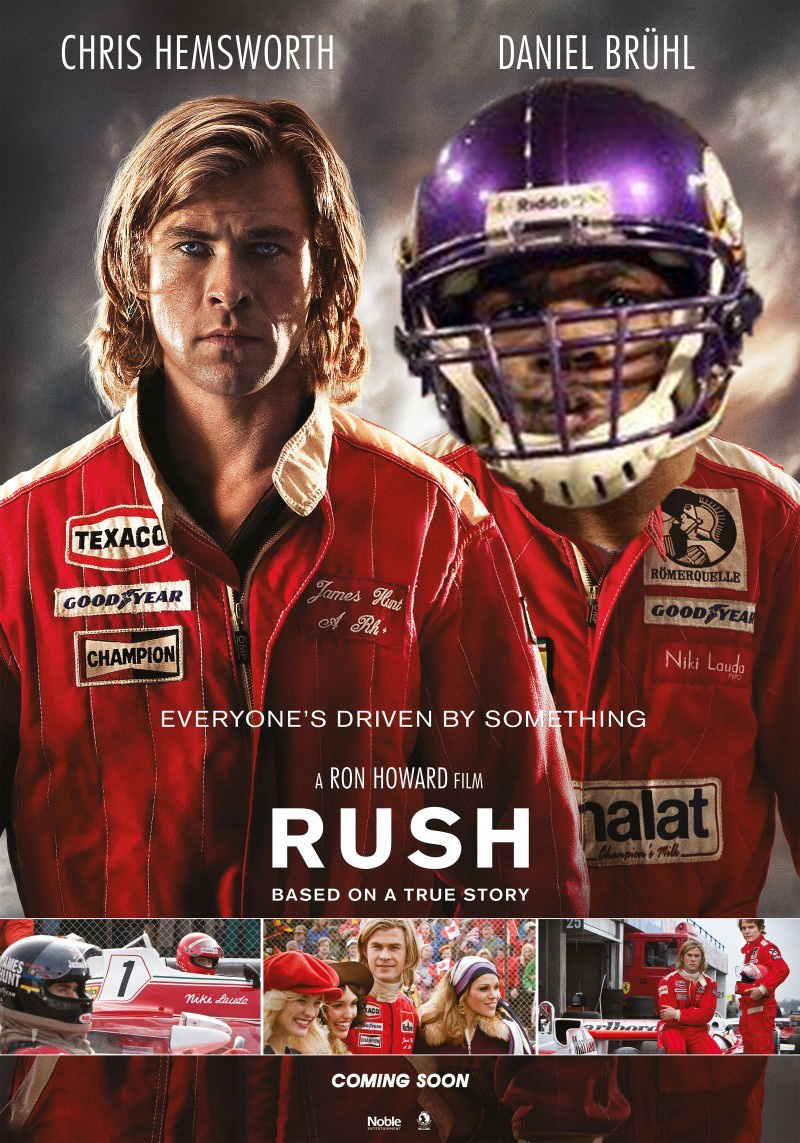 RUNNING BACK
RUSH – Adrian Peterson, Minnesota Vikings
It was only fitting to give this one to All Day, who led the league in rushing last year while coming off an ACL injury. Ron Howard's racing drama follows two super-competitive drivers who aren't afraid to put the pedal to the metal, and neither is Peterson. The Vikings' workhorse should be the consensus #1 pick on Draft Day.
ONE DIRECTION (THIS IS US) – Doug Martin, Tampa Bay Buccaneers
Martin dominated defenses as a rookie, indicating that like the titular boy band, his draft position is heading in one direction: up. Martin is a deserving top-5 overall pick and it helps that unlike Arian Foster and Ray Rice, there's no proven back-up challenging him for playing time. We'd call him a fantasy stud in the making if he hadn't already made it.
THE LIFEGUARD – Trent Richardson, Cleveland Browns
As a rookie, Richardson was the fantasy lifeguard of the Browns, who did his best to prevent the team from drowning in mediocrity. Now that Richardson has offensive coordinator Norv Turner calling plays, he should be drafted among the top-10 overall. Higher priority if you're just starting a keeper league.
RUNNER RUNNER – Stevan Ridley and Shane Vereen, New England Patriots
Ridley may have cemented himself as the starter last year but Vereen is still a viable fantasy option because he's better at catching passes on third down, when Ridley traditionally takes a breather. Ridley should be drafted in the 2nd or 3rd round, but don't be afraid to take a flyer on Vereen in the 5th or 6th. He'll get in on the action this year.
ABOUT TIME – Reggie Bush, Detroit Lions
Has Detroit finally assembled a playoff contender? It seems like it, and frankly, it's about damn time! New addition Bush is a critical piece of the puzzle, especially now that he has put his injury-prone past behind him. Mikel Leshoure waits in the wings, but Bush should put up solid numbers and catch plenty of screen passes from Matthew Stafford.
Also read: Sean Combs, NFL Star Arian Foster Join Kevin Costner in 'Draft Day'
WIDE RECEIVER
CATCHING FIRE – Calvin Johnson, Detroit Lions
Hot off a nearly 2,000-yard season, Megatron remains the top-ranked WR in fantasy. He's a beast who had eight-straight games with over 100 receiving yards, including two games with more than 200 yards. Like Katniss Everdeen, Johnson will be catching fire this fall, so draft him early and reap the fantasy rewards. The odds will surely be in your favor.
THE SPECTACULAR NOW – A.J. Green, Cincinnati Bengals
Not only is Green spectacular, but his time is now. The hottest WR in the NFL is single-handedly (sometimes) willing the Bengals to victory and his connection with QB Andy Dalton will only grow stronger. Not only is he fun to watch, but Green should be the second WR taken on draft day, without question.
LONE SURVIVOR – Larry Fitzgerald, Arizona Cardinals
Like the behind-enemy-lines situation Mark Wahlberg will find himself in this December, this is no joke — Fitzgerald is the only member of Arizona's offense that ranks among the top 20 at their position according to Sports Illustrated and ESPN. He may be coming off an ugly year but he's due for a fantasy resurgence now that he has a competent QB in Carson Palmer.
BATTLE OF THE YEAR – Roddy White vs. Julio Jones, Atlanta Falcons
Does any team have a better 1-2 punch at the WR position? If you can get them both on Draft Day, go for it, but neither are expected to survive the third round. Their final numbers may be too close to call, but don't be surprised if Jones takes over the top spot on the depth chart as he continues to refine his chemistry with QB Matt Ryan.
DALLAS BUYERS CLUB/AUSTENLAND – Dez Bryant/Miles Austin, Dallas Cowboys
Austin's production has decreased over the years as Bryant has blossomed into the team's top receiver. Like Matthew McConaughey, Bryant is finally starting to realize his full potential, so buy high on him and wait as long as possible on Austin, who will also be competing with TE Jason Witten for receptions.
Also read: NFL and MLB Legend Deion Sanders Reality Show to Debut on Oprah's OWN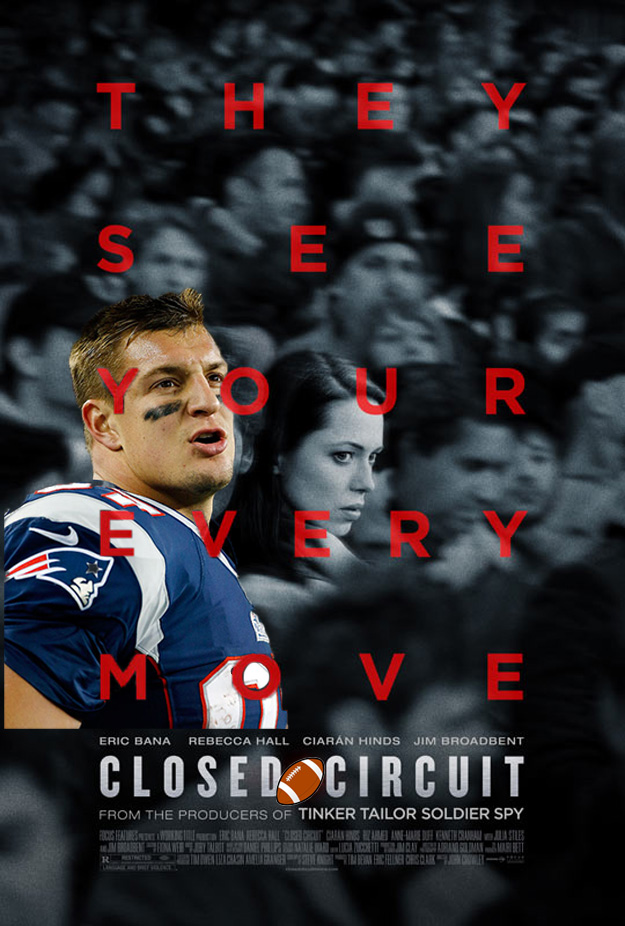 TIGHT END
AIN'T THEM BODIES SAINTS – Jimmy Graham, New Orleans Saints
Graham is the primary target for QB Drew Brees and both players should rebound from an underwhelming season now that coach Sean Payton has returned from a year-long suspension. Graham's size and speed make him especially tough to defend and he'll be a smart second-round pick for those seeking an elite TE.
CLOSED CIRCUIT – Rob Gronkowski, New England Patriots
Focus' upcoming thriller concerns government surveillance, so this Pats fan is making a self-depricating SpyGate joke, as all eyes will be on the Patriots this season in the wake of the team's offseason turmoil. If Gronk is healthy to start the season, he'll be out to prove the doubters wrong and make up for the loss of fellow TE Aaron Hernandez. Look out!
Also read: As Concussions Mount, 'Head Games' Documentary Puts Spotlight on NFL's Big Headache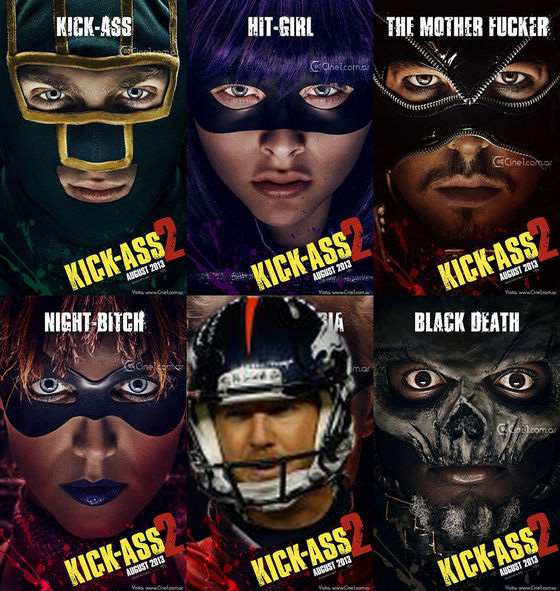 KICKER
KICK-ASS 2 – Matt Prater, Denver Broncos
Kickers are the last guys you'd think of playing "balls to the wall," and though there's no point in drafting one before the last round, Prater is a safe choice. Not only will the Broncos have no problem moving the ball with new RB Montee Ball and the addition of Wes Welker, but Prater has a big leg and the air is thin in Denver. Field goals add up.
DEFENSE
CONCUSSION – Seattle Seahawks
Both Sports Illustrated and ESPN have Seattle ranked as the top defensive team for fantasy purposes. The Seahawks have CB Richard Sherman and just added pass rusher Cliff Avril, making them even more dangerous than last year. Opposing teams may want to wear extra padding, lest they wind up with a concussion like the lead in this Sundance film.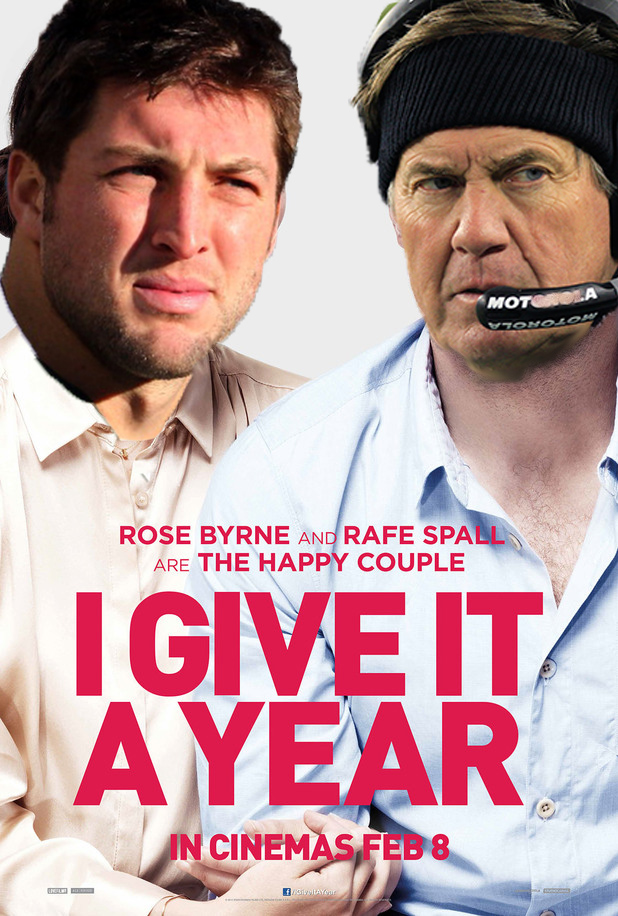 TOTALLY AVOID
I GIVE IT A YEAR – Tim Tebow
There will be very little Tebowing this year — outside of when the 3rd-string QB takes a knee in games the Patriots are leading by multiple touchdowns. Tebow found himself at the center of a QB controversy last year in New York but there will be no such confusion now that he's backing up Tom Brady. Coach Bill Belichick was smart to take a chance on Tebow, who always tries hard, but I give it a year before Tebow leaves New England in search of more playing time.
FLEX (aka MISCELLANEOUS)
DRINKING BUDDIES – NFL players Eric Wright, Alfonzo Dennard, Evan Rodriguez, Quentin Saulsberry and Armonty Bryant, plus Denver Broncos execs Matt Russell and Tom Heckert
All of these dopes got DUIs this summer, so even though they're affiliated with different teams, they're connected off the field. Thankfully, none of them have much fantasy impact, so feel free to ignore them and instead raise a glass to Joe Swanberg's indie movie, which stars Olivia Wilde, Jake Johnson, Anna Kendrick and Ron Livingston. Cheers!
WE'RE THE MILLERS – Von Miller, Heath Miller, Zach Miller, Lamar Miller
Forget Jason Sudeikis and Jennifer Aniston, these are the real Millers to keep in mind on Draft Day. Von anchors Denver's defense and racks up sacks. Heath's a viable option at TE if his QB can stay healthy. Zach has played well in Seattle but the TE's numbers will likely come down, while Lamar could be a solid value pick if he starts at RB for Miami.
TURBO – Robert Griffin III (WSH), Cam Newton (CAR) and Russell Wilson (SEA)
These three QBs can take off in the blink of an eye, registering 815, 741 and 489 rushing yards last year, respectively. They were the only QBs to rank among the top-40 NFL players in rushing yards last year and had more rushing TDs than LeSean McCoy, Darren McFadden and Ryan Mathews. Act fast and draft them early or risk crying about it later.
ALL IS LOST – Everyone on the New York Jets
The future for the Big Apple's B-team is bleak. Its best player, Darrelle Revis, is gone, and perennially disappointing QB Mark Sanchez is back. Meanwhile, the mercurial Santonio Holmes is the "leader" of a young receiving corps and Chris Ivory is the starting RB. Will Rex Ryan last the season under the watchful eye of the New York media? We'll see…
OUT OF THE FURNACE – The Pittsburgh Steelers
Like director Scott Cooper, the young Steelers are just heating up. Rookie RB Le'Veon Bell is expected to contribute right away, while WRs Antonio Brown and Emmanuel Sanders will be asked to step up and replace the production of Mike Wallace. Don't be afraid to take a late-round flyer on Plaxico Burress, who's still in the deep end of the depth chart.
FREE BIRDS – The Philadelphia Eagles
Look for new head coach Chip Kelly to install an up-tempo offense featuring a heavy dose of LeSean McCoy, who regressed last year after a breakout 2011 campaign. There's too much talent on the roster for this team to be a turkey, but it'll be up to Kelly to make the most of it and take the reins off QB Michael Vick.
FROZEN – The Oakland Raiders
This team will likely be stuck in place towards the lower-end of the division once again. New QB Matt Flynn doesn't have much to work with in terms of receivers and RB Darren McFadden isn't getting any younger. I'd steer clear of all the Raiders with the exception of kicker Sebastian Janikowski, who could still put up points when, not if, the offense stalls.
THE FAMILY – John & Jim Harbaugh, Baltimore Ravens & San Francisco 49ers
With this year's Super Bowl billed as the Harbowl by the media due to sibling coaches John and Jim, the Harbaughs have replaced the Mannings as the First Family of the NFL. Like Robert De Niro and Michelle Pfeiffer, I don't expect this family will go into hiding quietly, as their teams will compete for a championship again. Maybe we should've called this entry "Grudge Match," which finds "Raging Bull's" De Niro boxing "Rocky's" Sylvester Stallone.