Scoring scorned golfer's press statement, hole by tricky hole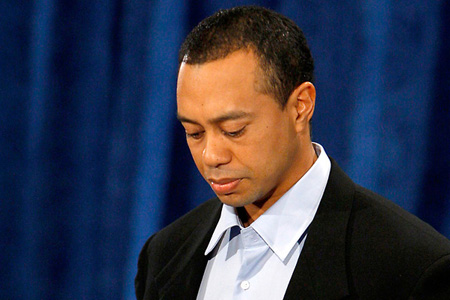 The media paused to watch Tiger Woods read his apologetic statement on Friday, and then promptly began its dissection — microscopic, frighteningly thorough, and ultimately unnecessary. (Did you know ESPN had a "body language expert" on call? Neither did I.)
That's not to say it wasn't darkly fun, though.
Here's a handy scorecard to Woods' apology (each hole labeled with what he needed to do, scored accordingly), adapted from the Masters' course at Augusta National — one many feel Tiger will still play this year.
So by my count, Tiger's in the clubhouse with a one-over-par 73 (+1).
Not a championship score, but luckily for him, his public rehabilitation has many more rounds to go.
Remember to sign that scorecard, Tiger, or the round doesn't count!

More to read:
Tiger Says He's Sorry, Slams Tabloids
Breaking: Tiger Woods to Come Out of Hiding