Thirteen new episodes of military drama "Army Wives" will kick off next year
"Army Wives" is extending its tour of duty.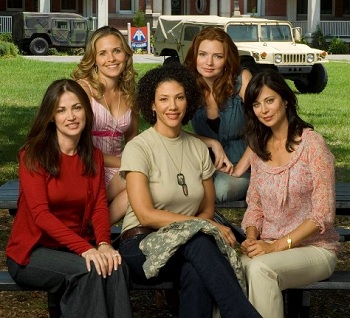 Lifetime has given the drama series a seventh season. The 13-episode season will premiere next year.
The series averaged 3.2 million total viewers in its sixth season, which ended earlier this month.
The ABC Studios-produced show, which follows a group of women and one man living with their spouses on an Army post, is based on the Tanya Biank book "Army Wives: The Unwritten Code of Military Marriage." (Biank serves as a consultant on the series.)
Also read: Marc Cherry's 'Devious Maids' Picked Up by Lifetime
Calling "Army Wives" a "very special program," Lifetime Networks' executive vice president, programming Rob Sharenow said, "It's rare to find a series that connects with viewers and resonates so powerfully after six straight seasons, and we couldn't be prouder to have it return to Lifetime next year."