TV Academy VIPs get ready for the Emmys at an exclusive soiree, while off-color humor reigns on Comedy Central's "Knight Rider"-themed set
With only six days until the first round of Primetime Emmy Awards ballots are due, the Academy of Television Arts & Sciences hosted the Performers Peer Group for an invitation-only soiree with 50 of the org's governors and VIPs in Beverly Hills on Wednesday night.

Acting nominees Bryan Cranston (with hair), Kyra Sedgwick ("The Closer"), Cranston's "Breaking Bad" co-star Aaron Paul, Julia Ormand (HBO's "Temple Grandin"), and Chris Colfer ("Glee") mingled over Grey Goose cocktails with key voters at Chakra, in the shadow of the Writer's Guild Theatre on Doheny.

As Performers Peer Group governors Peter Kwong and Conrad Bachmann gathered the might-be winners for the obligatory "Class of 2010" photo, funnyman-nominee Fred Willard teased the amateur photographers in the room, "no pictures please…we just want our privacy."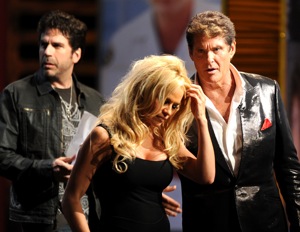 Support from Sedgwick's spouse Kevin Bacon added to the star power. Meanwhile, Martin Kove (the evil "Sweep the Leg" Sensei from the original "Karate Kid") manned the raffle box where two party goers won Emmy tickets and a trip to Disneyland. The Emmys are handed out on NBC on Aug. 29.

On Sunday night, the kudos were insincere at the taping of "Comedy Central's Roast of David Hasselhoff." Hasselhoff associates Pamela Anderson, Hulk Hogan, Jerry Springer, and George Hamilton suffered collateral damage as ripe targets on the "Knight Rider" themed set on the Sony lot.


Despite enduring nearly three hours of bathing suit, pop-singing, and cheeseburger eating on YouTube related ridicule from pro comics like Whitney Cummings, Jeffrey Ross, and Lisa Lampanelli, the "Hoff" was still in good spirits as he escaped his red lifeguard chair in center stage and headed to the "Baywatch"-themed after-party. Backstage, he told The Wrap that after a few scandal-plagued years, he chose the roast format, even though Larry King's producers had lobbied him that he "would sell a million books" if he did their show. Congrats, Comedy Central.

MTV Networks Entertainment Group chief Doug Herzog was on hand and hands-on during the night. Herzog posed with a giant Hasselhoff wax figure (complete with back hair) that greeted celebs on the red carpet and spent time in both the production truck and on stage.


Roastmaster Seth MacFarlane set the tone early on, telling Hogan, "Your daughter Brooke (Hogan) has grown up … in to a beautiful young man." The wrestler/VH1 reality fixture seemed as if he had missed the memo warning all participants that there were no pre-arranged ground rules. Similarly, after a brutal verbal assault by up-and-coming comic Cummings, Anderson refused to play along with applause and immediately called for her car as the taping ended.

With lots of dark humor tied to Hasselhoff's popularity in Germany, the toughest job between now and the Aug. 15 airdate falls on Comedy Central execs to wade through editing the alcohol, Holocaust, AIDS and racially themed jokes that wandered in to the roast of the king of the beach. After the dust settled, Hasselhoff told TheWrap, "Pam and I are laughing all the way to you know where."