"The Weary Kind" gets song nomination in international competition
Alexandre Desplat, Hans Zimmer and Carter Burwell are among the top nominees for the 2010 World Soundtrack Awards, which will be presented on Saturday, October 23 at the Ghent International Film Festival in Belgium.
Desplat, Zimmer (below) and Burwell were all nominated for Film Composer of the Year and for Best Original Film Score of the Year, in the latter category for "Fantastic Mr. Fox," "Sherlock Holmes" and "Where the Wild Things Are," respectively.
James Horner's "Avatar" and Abel Korzeniowski's "A Single Man" were also nominated in the Best Original Film Score category, while Danny Elfman and John Powell rounded out the Film Composer of the Year category.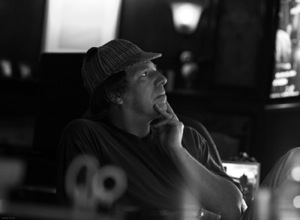 In the Best Original Song Written Directly for a Film category, the Oscar winning song "The Weary Kind" from "Crazy Heart" will compete against "Almost There" from "The Princess and the Frog," "I See You" from "Avatar," "I Want to Come Home" from "Everybody's Fine" and "Sticks & Stones" from "How to Train Your Dragon."
The awards will be followed by a concert featuring 11 international composers: Howard Shore, Eliot Goldenthal, Gabriel Yared, Gustavo Santaolalla, Stephen Warbeck, Angelo Badalamenti, Craig Armstrong, Alberto Iglesias, Bruno Coulais, Frederic Devreese and Nico Muhly.
The nominees:
Film Composer of the Year
Alexandre Desplat – "Fantastic Mr. Fox," "New Moon," "Julie & Julia," "The Ghost Writer"
Hans Zimmer – "Sherlock Holmes," "Despicable Me," "It's Complicated"
Danny Elfman – "Alice in Wonderland," The Wolfman"
John Powell – "Green Zone," "How To Train Your Dragon," "Ice Age: Dawn of the Dinosaurs," "Knight & Day"
Carter Burwell – "The Blind Side," "A Serious Man," "Where the Wild Things Are," "Howl," "The Kids Are All Right"
Best Original Film Score of the Year
"Fantastic Mr. Fox" – Alexandre Desplat
"Avatar" – James Horner
"Where the Wild Things Are" – Carter Burwell & Karen Orzolek
"A Single Man" – Abel Korzeniowski
"Sherlock Holmes" – Hans Zimmer
Best Original Song Written Directly For a Film
"Almost There" from "The Princess and the Frog"
Music & lyrics by Randy Newman, performed by Anika Noni Rose
"I See You" from "Avatar"
Music by James Horner & Simon Franglen,lyrics by James Horner, Simon Franglen, Kuk Harrell, performed by Leona Lewis
"I Want to Come Home" from "Everybody's Fine"
Music & lyrics by Paul McCartney, performed by Paul McCartney
"Sticks & Stones" from "How to Train Your Dragon"
Music & lyrics by Jon Birgisson, performed by Jonsi
"The Weary Kind" from "Crazy Heart"
Music & lyrics by Ryan Bingham & T-Bone Burnett, performed by Ryan Bingham (& Jeff Bridges)