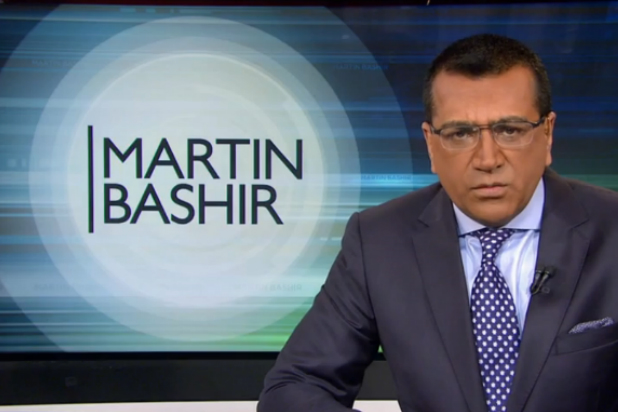 MSNBC host Martin Bashir resigned from the network Wednesday, two weeks after making the graphic suggestion that someone defecate in former Alaska Gov. Sarah Palin's mouth.
"After making an on-air apology, I asked for permission to take some additional time out around the Thanksgiving holiday," Bashir said in a statement.
"Upon further reflection, and after meeting with the president of MSNBC, I have tendered my resignation."
MSNBC president Phil Griffin said in a statement that Bashir resigned Wednesday, effective immediately.
"I understand his decision and I thank him for three great years with MSNBC. Martin is a good man and respected colleague – we wish him only the best," Griffin wrote.
Also Read: Alec Baldwin on MSNBC Cancellation: GLAAD Spokesman and Andrew Sullivan 'Killed' His Show
Bashir got into hot water after criticizing Palin for using a slavery analogy in her remarks about U.S. debt to China. The host himself used a slavery analogy to demonstrate what he called her "rank ignorance," suggesting Palin deserved a brutal punishment in which slaves were forced to urinate and defecate on each other's faces.
"It is my sincere hope that all of my colleagues, at [MSNBC], will be allowed to focus on the issues that matter without the distraction of myself or my ill-judged comments," Bashir wrote.
Also Read: Sarah Palin Accepts Martin Bashir Apology But Stands by Slavery Comments
Palin had canceled an interview with NBC's Today Show over the flap, apparently because NBC News did not do enough to separate itself from MSNBC and condemn Bashir's remarks.
Joy-Ann Reid has been hosting the 4pm hour on MSNBC while Bashir was on Thanksgiving vacation and will host Wednesday. MSNBC said it would have an announcement about a permanent replacement host in the coming weeks.
Tim Kenneally contributed to this report.