What year is it, exactly? Presidential candidates are debating birth control, the radio is blanketed with 1993's No. 1 pop song, and the latest comedy from one of Hollywood's more daring comic brain trusts deals with hippies living in a commune.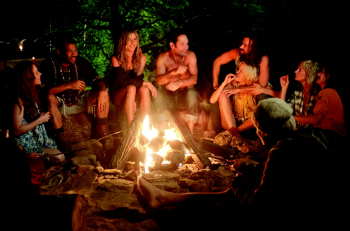 It's not just the subject matter of "Wanderlust" that feels tragically retrograde, however; the movie also represents a step backward for director David Wain, who got his big break with the MTV sketch comedy show "The State." Wain's feature debut, "Wet Hot American Summer," has become a cult favorite, but it's a shaggy, throw-it-at-the-cabin-wall-and-see-what-sticks comedy that's more a collection of sketches than an actual film.
Also read: Sacha Baron Cohen Got His Oscar Tickets — But His Alter Ego Is Still Making Trouble (Video)
With 2008's "Role Models," Wain felt like he was coming into his own as a comic storyteller — the laughs kept coming, yes, but not at the sacrifice of the script (a running gag about the band KISS paid off beautifully at the film's climax) or performances (both Paul Rudd and Jane Lynch delivered some of their best work).
It's a shame, then, that "Wanderlust" is such a shambles, but the film's problems go deeper than its outdated source of mockery and its narrative sloppiness. Worse than anything else, it's just not all that funny.
George (Rudd) and Linda (Jennifer Aniston) star as a Manhattan couple who've just bought their first residence, a miniscule "micro-loft" in the West Village, when their finances cave in — his corporate firm gets shut down by the feds, while HBO passes on her documentary about penguins with testicular cancer.
Also read: The Nun Who Kissed Elvis Isn't Quite Accurate With Those Oscar Memories
Left without options, they head to Atlanta to live in the garish McMansion owned by George's obnoxious brother Rick (Ken Marino), but on the drive down, they wind up taking a wrong turn into Elysium, a commune (the residents prefer the term "intentional community") begun by LSD burn-out Carvin (Alan Alda) back in 1971.
The New Yorkers are seduced by the atmosphere of love and sharing (not to mention the really good pot), so when life with Rick becomes unbearable, they return to Elysium to try living off the grid. Naturally, the atmosphere of "free love" tests George and Linda's commitment, with the group's shaman Seth (Justin Theroux) clearly pursuing the latter, while George all but drools over the erotic prospects of a tryst with the sexy Eva (Malin Akerman).
The term "free love," incidentally, is thrown around with zero irony, despite the fact that it was already so laughably outdated in 1979 as to be one of the time-travel jokes in "Time After Time." But anachronism seems not to be an issue here, with shtick about nudism, vegan cooking and strident hippie political correctness being thrown around like Nixon was still in the White House.
It's a running gag that all of Seth's references to the modern world are at least a decade out of date, but that joke's a glass house that "Wanderlust" shouldn't be pelting with rocks.
All this irrelevance would be more than forgiven if the comedy worked, but apart from Rudd giving another hilarious performance (he's pretty much become the Jack Lemmon of the new millennium) and some all-too-brief moments involving old pros Alda and Linda Lavin (the latter as an unamused NYC apartment broker), "Wanderlust" misses far more than it hits, despite a talented ensemble cast that features many of Wain's old "State"-mates.
With any luck, Wain and Rudd will collaborate again, this time on a movie with a stronger, funnier script that's set in a recognizable present.