HBO's "True Detective" wrapped Sunday, and many fans from Season 1 still don't know what the second season was all about.
Despite a star-studded cast led by Rachel McAdams, Colin Farrell, Vince Vaughn and Taylor Kitsch, the series failed to live up to sky-high expectations set by the award-winning first season led by Matthew McConaughey and Woody Harrelson.
Similarly, the remake of "Fantastic Four" bombed at the box office and with critics, despite the promising casting of rising stars Miles Teller, Kata Mara, Michael B. Jordan and Jamie Bell.
Also Read: 'Fantastic Four' Fails, Tom Cruise's 'Mission Impossible' Sails at Box Office
TheWrap takes a look at 17 TV shows and movies that boasted a dream cast but came up short in the execution.
Fantastic Four (2015)
The prospect of a remake of 2005's "Fantastic Four" seemed promising, especially with a hip new cast and a director, Josh Trank, hot off the sleeper hit "Chronicle." However, the movie received a 9 percent Rotten Tomato score and terrible reviews. In a tweet that he quickly deleted, Trank even tweeted that "A year ago I had a fantastic version of this. And it would've received great reviews. You'll probably never see it. That's reality though." The $120 million film grossed just $28 million in its opening weekend.
True Detective (2015)
After the success of HBO's first season, fans had high hopes for the L.A.-set plot line and the starry cast, including Rachel McAdams, Vince Vaughn, Colin Farrell and Taylor Kitsch. However, doubts rolled in after episode 1. People poked fun at the writing, and many were completely confused about the circuitous and confusing story.
Also Read: Final Social Media Slaughter of 'True Detective' Season 2 Draws Anger, Confusion and Joy (It's Over)
Aloha (2015)
Bradley Cooper, Emma Stone and Rachel McAdams were red-hot when writer-director Cameron Crowe signed them to a romantic comedy set in Hawaii. But the finished film lei'ed an egg, garnering a meager 19 percent on Rotten Tomatoes and earning only $21 million domestically on its $37 million budget.
Gangster Squad (2013)
The crime thriller's starry cast included Ryan Gosling, Emma Stone, Sean Penn, Josh Brolin and Anthony Mackie. But the $60 million film grossed $46 million, and got mediocre reviews  (31 percent on Rotten Tomatoes).
Also Read: Emma Stone on Leak of Her Email in Sony Hack: 'It Was Horrible. I Cried for Like an Hour'
Prime Suspect (2011-12)
Expectations were high for NBC's remake of the British police series that gave Helen Mirren one of her signature roles. Despite the casting of Golden Globe-nominated movie star Maria Bello, the show was canceled after one 13-episode season.
Valentine's Day (2010)
This romantic comedy excited fans with a high-profile cast featuring Jessica Alba, Bradley Cooper, Jessica Biel, Ashton Kutcher, Julia Roberts, Patrick Dempsey, Jamiee Fox, Jennifer Garner, Anne Hathaway and Taylor Lautner. Critics blamed the script for intertwining too many characters in one movie. It scored 18 percent on RottenTomatoes.
New Years Eve (2011)
This movie scored the cast of all dreams: Halle Berry, Jessica Biel, Robert De Niro, Josh Duhamel, Katherine Heigl, Ashton Kutcher, Seth Meyers, Lea Michele, Sarah Jessica Parker, Michelle Pfeiffer, Til Schweiger, Hilary Swank, Sofia Vergara, Ryan Seacrest, Zac Efron, Sienna Miller and Jon Bon Jovi. Yet, the film got a score of 7 percent on Rotten Tomatoes, and critics described it as "quickly put together" and humorless, and blamed director Garry Marshall for the mess.
Also Read: 'Law & Order' Director Jason Alexander Arrested on Child Pornography Charges
Law & Order: Los Angeles (2010-11)
The show that went on the air in 2010 got mediocre reviews from the start. Although the lineup boasted stars like Corey Stoll, Alfred Molina, Terrence Howard and Tamlyn Tomita, audiences checked out after just one season.
Four Christmases (2008)
Putting Vince Vaughn and Reese Witherspoon together for a holiday-themed rom-com seemed like a sure-fire move. But critics called the script dreary and lazy, and fans gave it a Tomato score of 25 percent.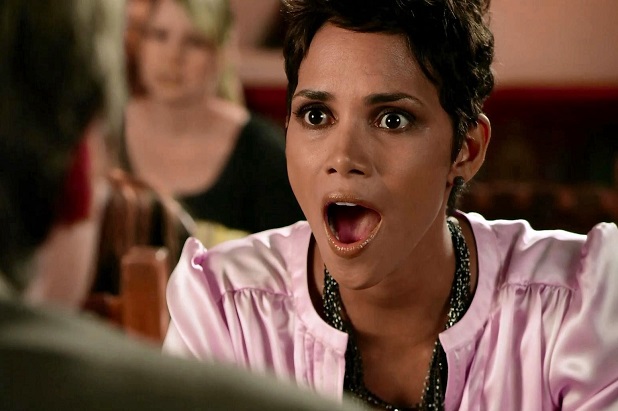 Movie 43 (2013)
The sketch comedy boasted one of the starriest casts in recent memory: Hugh Jackman, Emma Stone, Uma Thurman, Terrence Howard, Elizabeth Banks, Gerard Butler, Richard Gere, Naomi Watts, Kate Winslet and Halle Berry. But the movie bombed at the box office, making just $8.8 million, and drew one of the worst Rotten Tomato scores ever: 4 percent.
Also Read: 'Movie 43' Review: Gross. Disgusting. Juvenile. Hilarious.
Be Cool (2005)
Although the movie did OK at the box office, the dramedy got a rating of 30 percent on Rotten Tomatoes. Most critics blamed the script and not the starry cast led by John Travolta, Uma Thurman, Vince Vaughn, Dwayne Johnson and Danny DeVito.
The Crazy Ones (2013-14)
The CBS sitcom, starring Robin Williams, Sarah Michelle Gellar and James Wolk, was cancelled after just one season. Critics mostly blamed creator David E. Kelly for squandering such a talented, high-profile cast.
Jupiter Ascending (2015)
Lana and Andy Wachowski's sci-fi epic was so poorly received that even star Channing Tatum admitted he didn't know what happened on his Reddit AMA. He wasn't the only one. The $176 million production, which also starred Mila Kunis and Eddie Redmayne, grossed just $47.4 million domestically and earned a meager 25 percent on Rotten Tomatoes.
Also Read: 'Jupiter Ascending': 9 Terrible Reviews That Might Knock the Sci-Fi Movie Out of Audiences Orbit
Mortdecai (2015)
Even Johnny Depp, Gwyneth Paltrow, Ewan McGregor and Olivia Munn couldn't save this caper film. The film grossed just $7.7 million on a $60 million budget, and earned a devastating 12 percent on Rotten Tomatoes.
Cloud Atlas (2012)
Even though the film featuring Tom Hanks, Halle Berry, Hugh Grant and Susan Sarandon received a solid score on Rotten Tomatoes with 66 percent, it didn't trump the box office. The $102 million time-traveling puzzle of a film grossed $27 million domestically. Many critics and filmgoers were confounded by the script, which tried to condense a complicated 500-plus-page novel into a single feature-length entertainment.
Righteous Kill (2008)
Also Read: Robert De Niro's Heist Thriller 'Bus 657' to Be Sold at Cannes by Hannibal Classics
Robert De Niro, 50 Cent, Al Pacino and Carla Gugino are just a few of the stars cast in Jon Avnet's drama. But the $60 million film has a 19 percent score on Rotten Tomatoes and made $40 million at the box office.
Studio 60 on the Sunset Strip (2006-07)
NBC set expectations high for Aaron Sorkin's follow-up to "The West Wing," which drew a starry cast led by Matthew Perry, Amanda Peet, Bradley Whitford and Sarah Paulson. But critics and audiences panned the inside look at the TV industry, which became the only Sorkin show canceled after a single season.