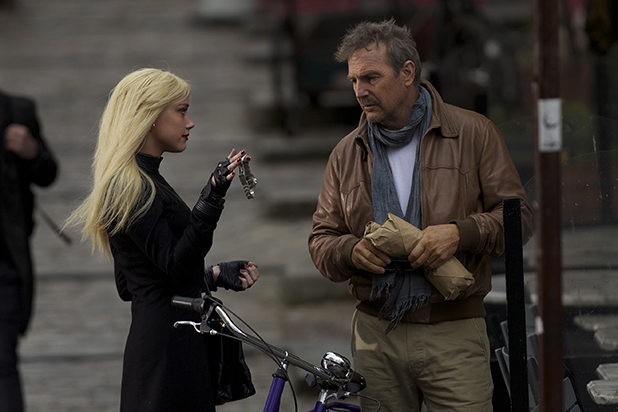 Saying that "3 Days to Kill" comes "from the director of 'This Means War'" might feel like a dig on McG, whose previous film scored only $54 million domestically. But it's actually an apt selling point, since like its predecessor, the Kevin Costner thriller combines tradecraft and relationship hijinks in equally ridiculous measures.
Nevertheless a movie primarily distinctive as a jacob's ladder of choices that make less and less sense, McG's latest is an ambitious disaster that tries to be two things at once — an action movie and a domestic comedy – but does neither well.
Costner ("Jack Ryan") plays Ethan Renner, a CIA "lifer" who is forced into retirement after being diagnosed with terminal brain cancer. With just months left to live, Ethan sets his affairs in order and tries to make peace with his his ex-wife Christine (Connie Nielsen) and daughter Zoey (Hailee Steinfeld). But just as he insists that his work is no longer a distraction from his familial responsibilities, CIA operative Vivi Delay (Amber Heard) makes him an offer he can't refuse: kill a high-risk target in exchange for an experimental drug that may prolong his life.
See video: Kevin Costner Uses Gun to Get Spaghetti Recipe in '3 Days to Kill' Trailer
Before long, Ethan is racing back and forth from assassinations to after-school meetups with his daughter, and trying to finish assignments in time to fix their supper. But as he becomes more emotionally involved in Christine and Zoey's lives, Ethan begins to question the value of extending his life, especially when it seems to be for the purpose of inflicting more death.
Superficially, the notion of a covert operative trying to balance his professional and personal lives is one ripe with potential – and which has been explored to mixed effect already in movies like "True Lies," and of course "This Means War." But screenwriters Adi Hasak and Luc Besson, who previously worked together on "From Paris With Love," have zero sense of how to combine humor with pathos, instead opting for a dizzying tone that whips haphazardly from goofy dunce-dad scenarios to brutally violent shootouts to tearful reconciliations to vampy surrealism.
Also read: 'This Means War' Review: Spy vs. Spy Love Triangle Makes Peace With Its Frothiness
It's bad enough that the basic concept doesn't make a damn lick of sense: Vivi gives Ethan a drug that gives him debilitating hallucinations, and then leaves him alone to kill a mysterious and incredibly dangerous criminal. But the characters are written with such disregard for anything resembling normal human reactions – such as when Zoey is angry at Ethan for not being angry at her – that their emotional non sequiturs actually conceal a few of the film's many, many logical flaws.
But not all of them, starting with the "Magical Negro" family that lives in Ethan's Parisian apartment and is helpless to evict because of laws that protect squatters. Or why Amber Heard is a buttoned-up desk jockey in the opening scenes of the film, but then transforms into a cross between Angelina Jolie in "Wanted" and a slightly less believable version of Dennis Rodman in "Double Team," complete with scene-to-scene changes in hair color.
See photos: 2014 Movie Preview: 60 Upcoming Winter & Spring Films – From 'Paranormal' Sequel to 'Transcendence'
You can't help but feel bad for Nielsen, a formidable actress whose character here is relegated to pooh-poohing her husband's unreliability, and then forgiving him unequivocally for showing mild interest (at best) in her and Zoey. But Steinfeld may have it worst of all, playing a character that even a teenage girl would think is mercurial – like when Zoey loses her temper at Ethan for saving her from a sexual assault she barely remembers, and immediately agrees to learn how to ride the bicycle she has told him repeatedly she hates.
What's worse is the notion that Christine and Zoey have simply been waiting for Ethan to re-enter their lives, and Ethan merely needed to show up – always late, and never fully invested — in order to secure the domestic bliss that completes his life. But then again, that almost serves as a metaphor for Costner's career of late: all he needs to do is make a demonstration of effort in a few high-profile projects, seem to care, and we're ready to re-anoint him a movie star.
Admittedly, the actor's recent turns in "Man of Steel" and "Jack Ryan" were perhaps deservedly acclaimed, if also in movies whose overall merits they overshadowed. But if numbskull dreck like this is exemplary of the kind of entertainment we get in return for that renewed adulation, I'll say no thanks. Ultimately, "3 Days to Kill" is almost crazy enough to be appealing as camp, and certainly has enough leftfield one-liners to keep midnight moviegoers shouting dialogue for years; but as anything remotely serious or engaging, the only thing the movie actually kills is the time and money you spent watching it.